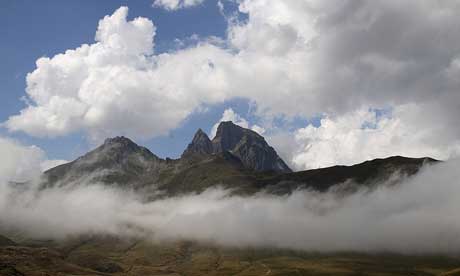 5 of the best Multi-Country weekends
You might only have a weekend, but that doesn't mean you need to restrict your boundaries. Tick off two (or more) nations on these border-hopping short breaks
1. Gibraltar & Tangier
Why? To combine not just countries but continents
Country count: 3 ('UK', Spain, Morocco)
How long? 3-4 nights, at least two in Tangier.
Sail from a little Britain – think red post boxes and pint-pulling pubs perched on a tiny, Med-poking outcrop – to Morocco's seedy, sultry port. Meet Gibraltar's ape inhabitants on a walk around the Rock before crossing the Straits, eyes peeled for dolphins. Then delve into Tangier: the labyrinthine medina reveals spice smells, street cafés and literary history at every turn, while renovated dars (traditional courtyard houses) offer exotic beds for bargain prices – try La Tangerina (from €40).
Getting there & around: easyJet and BA fly from Gatwick to Gibraltar; Monarch flies from Luton and Manchester. Ferries to Tangier run frequently from Tarifa (www.frs.es); €45/£40 one way; 45 minutes. Tarifa is a 45-minute bus ride from La Línea, just over the Gibraltar/Spain border.
2. French & Spanish Pyrenees
Why? For a walk among magnificent, border-making mountains
Country count: 2 (France, Spain)
How long? 4-5 nights: first night Cauterets, 1-2 nights on trek, 1 night Cauterets, 1 night Pau.
Want a wild walk in a long weekend? This is a cracker. Flit through holier-than-thou Lourdes to reach spa centre Cauterets. Hole up in a gîte before striking out the next day for rustic Refuge Wallon, a day-long hike past a glorious mix of streams, pines and looming mountains – proper pretty stuff. On day three, hike on and up – a mountain pass takes you into Spain for about an hour before scrambling back to France and down to Refuge Oulettes de Gaube, which gazes at the imposing north face of 3,298m Vignemale. Sleep here if you're spent, or carry straight on down the wide valley back to Cauterets, toasting your tired legs with a vin rouge in Pau before the flight home.
Getting there & around: Ryanair flies from Stansted and Bristol to Pau. Trains run from Pau to Lourdes (25 minutes), where you can catch a bus to Cauterets (50 minutes).
3. Zürich-Innsbruck
Why? For a top train trip
Country count: 3 (Switzerland, Liechtenstein, Austria)
How long? 3-4 nights.
Zürich isn't just money – there are also mountain views, a pristine lakeside and more than 50 museums to poke into. And there's a cracking train journey: head east into the Alps, nipping briefly into Liechtenstein, before entering Austria and crossing the Arlberg Pass. The scenery around the pass (which itself is navigated by a view-blocking tunnel) is a panoramic wow of surging rivers, chalet-studded meadows, castles and snow-topped peaks. Innsbruck is a worthy destination – there are Alps all around, plus medieval lanes and trendy brewpubs.
Getting there & around: Swiss flies to Zürich from UK airports. Or take the Eurostar; London-Zürich takes 7.5 hours. Trains to Innsbruck take around 4 hours. easyJet flies from Innsbruck to Gatwick, Liverpool and Bristol.
4. Vienna-Budapest
Why? Combine three capitals by boat
Country count: 3 (Austria, Slovakia, Hungary)
How long? 3 nights: at least a day in each of the cities, plus a day to sail.
Ah, the Blue Danube – forever a romantic prospect. The section between the Austrian and Hungarian capitals has the bonus of sailing through Bratislava, to up the country count. Lap up Sachertorte and Mozart impersonators in Vienna before floating past the floodplains of Donau-Auen NP, the Slovak capital and the forested splendour of the sweeping Danube Bend before arriving in Hungary in time for a dip in the grand Gellért Baths and a night at the (cheap-as-chips) opera.
Getting there & around: Numerous airlines fly from UK regional airports to both Vienna and Budapest. Hydrofoils run between the cities (Apr-Oct; www.ddsg-blue-danube.at); boats leave at 9am and take 5.5-6.5 hours; €89/£77 one way.
5. Helsinki-Tallinn
Why? For a Baltic cruise on the cheap
Country count: 2 (Finland, Estonia)
How long? 3-4 nights.
First explore cool, compact Helsinki: either on foot or astride a free bicycle (there's a city bike scheme here). Get acquainted with the local Baltic waters by ferrying around the city's archipelago; many great restaurants are dotted on outlying islands, for super supper views. Then sail further: Tallinn is just two hours away, but feels like another world. Take in the panorama from the sea before delving into the medieval centre for church gazing, city square lolling and much cheaper beer.
Getting there & around: easyJet flies from Gatwick to Finland; Finnair flies from Heathrow and Manchester. easyJet flies from Stansted to Tallinn; Estonian Air and BA fly from Gatwick. Frequent ferries run between Helsinki and Tallinn (www.tallinksilja.com/en); the trip costs from €24/£21 one-way and takes around two hours.