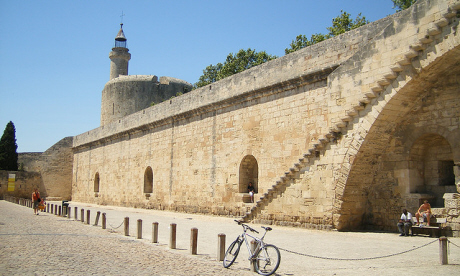 Tony Wheeler on Europe
Whether it's France, Spain, Monaco, Germany or England, there's lots in Europe to give you stories to tell for years to come
"It's like eating too many chocolates," Maureen announced, as we arrived in yet another postcard-pretty Provence village. As a change from kicking around Asia, we were spending September kicking around Europe; mainly in Provence and southern France, but with forays into Spain and a final week divided between Paris, London and Munich.
Our first stopover, Collioure, just across the border into France, was typical of the lazy pace of this trip. We stopped for lunch and, by the time we'd finished sardines, frites and a pichet of rosé, we'd stopped for the night. Next morning, I looked out of our hotel window across the harbour and realised it was the local thing to swim across the little bay to the castle in the morning. Ten minutes later I was out the front door in my swimsuit to join in for a pre-breakfast lap.
In Arles we caught a feria (local festival). Provence is far too well mannered to actually kill any bulls, so bullfighting is replaced with 'bull teasing'. In the age-old Roman amphitheatre, the highlight of the evening was gentlemen in matador outfits lining up to pole-vault over the charging bull. The only thing missing was the thought balloon over the enraged, but totally mystified, bull's head announcing, "What on earth is going on?"
Aigues-Mortes ('dead waters') has a wonderful city-wall walk, punctuated by a series of exhibits detailing how thoroughly nasty local medieval Catholics were to medieval Protestants. Just inside the walls, our lunchtime café turned out a pizza of such inspired awfulness it challenged for the position of 'world's worst pizza maker', long held by the pub in Nimbin, north New South Wales. It was a reminder that, when they put their mind to it, the French can produce truly terrible food.
Monaco
If Maureen hadn't dragged me away, I'd have been happy to spend a whole afternoon gawking at the luxboats crowding the harbour at Monaco. The biggest looked to be half the length of the QE2, the gleaming-white-and-sinister-black colour scheme neatly contrasting with the helicopter perched on the stern.
A quick web trawl revealed its owner to be a Saudi princeling; a mate of George W (the sheikh donated mega-millions to build a football stadium at Dubya's Texas alma mater).
Hardly surprisingly, there's a website dedicated to listing the specifications and ownership details of everything Robert-Maxwell-size or larger around the harbour – a good proportion of the owners are Saudis.
London, Munich and Spain
Over the years, I've probably stayed in more different hotels in London than any other city on earth. That's not necessarily an indication of how many nights I spend in London each year, it's more an indication that so many London hotels are too boring, too badly run and with rooms too small and too expensive to make you want to return. St Martin's Lane might have changed that, if the rooms had been bigger or the price lower. Still, we did have our own running machine in the room (that was a first) and the bar mixed a mean mojito – although it did cost ten quid.
A couple of business-like days in Munich were punctuated by a welcome visit to the Oktoberfest. After one too many maas (litres of Bavarian beer), I was amazed to discover that Freddie Mercury had been reincarnated as the female lead singer of the band performing in our beer tent. Seriously, I don't think Freddie ever performed We Are the Champions with as much sex appeal as she did, and he certainly didn't look so good.
A wedding in Spain provided the raison d'être for this little European foray. Maureen's niece, Pia, was marrying Luís in a tiny chapel overlooking Sant Feliu de Guixols in an English-Irish-Spanish ceremony that left scarcely a dry eye in the house – and a general feeling that, irrespective of all the messing around by politicians in Brussels, the European Union really can work.
Maureen and Tony Wheeler founded Lonely Planet in 1973