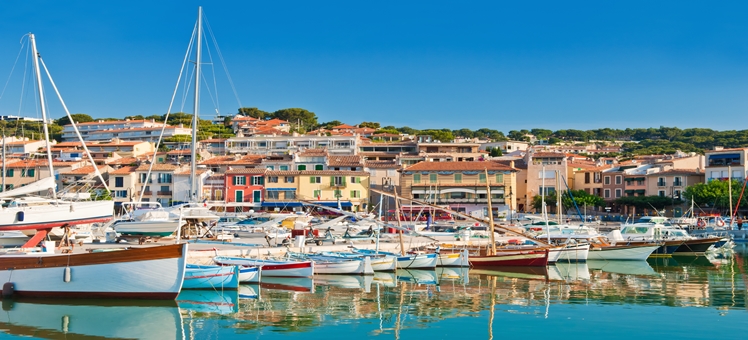 The main attractions of the French Riviera are based along the pretty coastline, which is dotted with yachts, lighthouses and eternal sunbathers. A lot of the area has retained its history, with small villages and towns off the coast boasting medieval fortresses, ancient villas and historic winding streets. That's not to say the French Riviera isn't firmly in the 21st century however: places like Monaco have super cars lining the streets, with plenty of things to do including eating at upmarket bistros, enjoying the lights of the casinos and getting some retail therapy in the luxury boutiques.
Roquebrune-Cap-Martin
Nestled between Monaco and Menton, on the French-Italian border, this charming commune is one of the most delightful resorts on the French Riviera. The 10th century castle looms over the town, the oldest in France, and it's a pretty sight that shouldn't be overlooked. This attractive settlement has enticed the rich and the famous over the years, from Coco Chanel to Queen Victoria, offering a quiet and serene location to escape the hustle and bustle of the city.
Monte Carlo Casino
Grand, extravagant and full of some of the richest people in the world, the Monte Carlo Casino in Monaco has as much going on outside as it does on the inside. Surrounded by beautiful flower gardens, and built in 1863 by the same man who designed the Paris Opera House, the casino has an incredibly grand facade. Gamble your euros away, enjoy a show, or simply sit back and relax with a spa treatment. The casino may be the height of luxury, but it's certainly worth a visit for the architecture alone.
Villa Ephrussi de Rothschild
This palatial villa is in St Jean Cap Ferrat and was built in 1905 to house socialite Beatrice Ephrussi de Rothschild's art collection. The bright pink building is perched on the hilltops over the town and is renowned for its varied gardens, with pretty fragrant roses, Japanese gardens, tropical plants and cascading fountains. On the inside, you can see a selection of artwork and sculptures, as well as the private apartment of the original owner. Despite its grand facade, this quaint villa has a lived-in feel about it which gives it a very romantic air.
Cours Saleya Market
Much of the old part of Nice is centred on Cours Saleya and its wonderful bustling market. Satisfy all your senses with the colorful fruits, vegetables and flowers for sale and grab a bite to eat: a socca snack, which is like a pancake made of chick peas, is great for any shopaholic on the go. With Nice's grand Baroque architecture as your backdrop, you'll come over feeling very French, browsing through some of the best food and drink that the Riviera has to offer.
Fondation Maeght
In this unusual modern building nestled amongst the pine-filled gardens of St-Paul-de-Vence is a magnificent collection of 20th century art. An independent gallery, which was founded in the 1960s, it houses work by famous artists such as Joan Miró, Georges Braque, and Alexander Calder. Just around the corner from the gallery is the swanky la Colombe d'Or hotel and restaurant, which houses more artwork from the likes of Picasso and Matisse