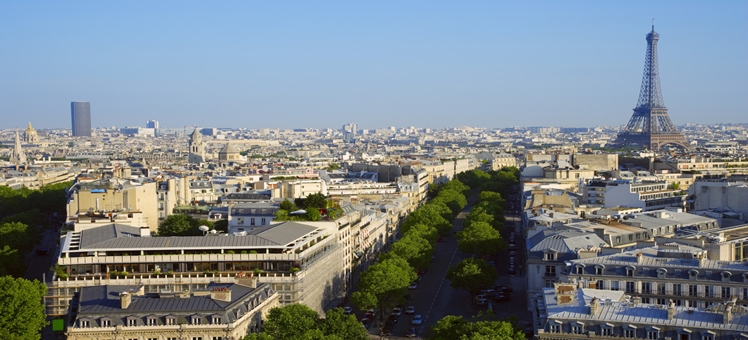 Paris' accommodation is as varied as Paris itself. Hosting an eclectic assortment of magnificent and luxurious hotels, chic independent boutiques, humble family owned guesthouses and a variety of mid-range hostels, apartments and international lodging chains. With a variety of gems to be found on the charming Parisian streets, you'll be sure to discover the perfect accommodation
Eiffel Tower to St Germain-des-Prés
The charming left bank delivers the perfect mix of grand sights with a hypnotic sleepy village ambiance. The west, near the Eiffel Tower is renowned for being one of the safest, quietest and most prestigious neighborhoods. A Popular district with families and those after a retreat from the bustle of metropolis Paris. Being one of the most desirable residential districts in Paris comes with a hefty price tag, especially if the room comes equipped with a view of the iconic Eiffel Tower. For something a little less pricey and a little livelier head down towards the enchanting Germain des Prés. You'll find a mix of affordable hotels and boutiques that line the maze of delightful twisty streets.
Latin quarter and the islands
Join the eclectic mix of thinkers and undisciplined students in the second arrondissement, beautifully nestled between the Seine and Luxembourg gardens. The picturesque Latin Quarter famous for its literary heritage still remains a lively cultural student hub hosting more restaurants and cinemas than any other neighborhood. This historic Parisian district oozes awe inspiring architecture and showcases a fine display of some Paris's must see monuments such as the impressive Notre Dame and the beautiful jewel studded Sainte-Chapelle. There is a real mix of bourgeois and bohemian accommodation in this district. A good range of small hotels with plenty of character can be found on Ile St Louis and Ile de La City.
The Louvre to the Arc de Triomphe
It's hard not to be swept away by the exclusivity and grandeur of the first arrondissement. Renowned as the royal heart of Paris, it contains all the glitz and glamour you would expect. Centrally located, this district is ideal for museum lovers, art appreciators and serious shoppers and is a stone throw away from a selection of Paris's finest sights, including the Louvre, place de concord, arc de triumph and the infamous Champs-Elysées. You'll be sure to find an array of upscale boutiques and ritzy hotels in one of Paris chicest postcodes, keep in mind such an exclusive area comes complete with an exclusive price tag.
Le Marais and Bastille
Medieval Marais provides a pleasant retreat from the hustle and bustle and is home to some of the oldest surviving streets in Paris. The picturesque area has now become a well frequented fashionable districted but has managed to retain its peaceful and tranquil ambience. Here you will find a variety of boutiques, budget hotels and a number of old exceptionally converted mansions, all at reasonable prices. The trendy Bastille area is ideally located for easy access to many of Paris's must see sights such as Place des Vosges, Notre Dame and the controversial opera house. The area is well populated with metros for access to cross city venues and has an abundance of funky bars, clubs and restaurants to suit any budget.
Montmartre
For picture postcard Paris with winding streets, ivy clad house and exquisite gardens Montmartre is your go to district, if you don't mind the hilly location. Although besieged by the typical tourist trail heading towards the Moulin Rouge and Sacré-Coeur, the area still has a distinct village character. Montmartre has the highest concentration of hotels and going out is generally inexpensive which make its popular amongst backpackers. Montmartre is a ceaseless hub of activity bursting with an eclectic selection of quirky bars, chic cafes and lively nightclubs populated by an abundance of artists, musicians and thinkers. Best avoid Pigalle area late at night, especially families with young children. Although a little further out there is ready access to metros and buses.