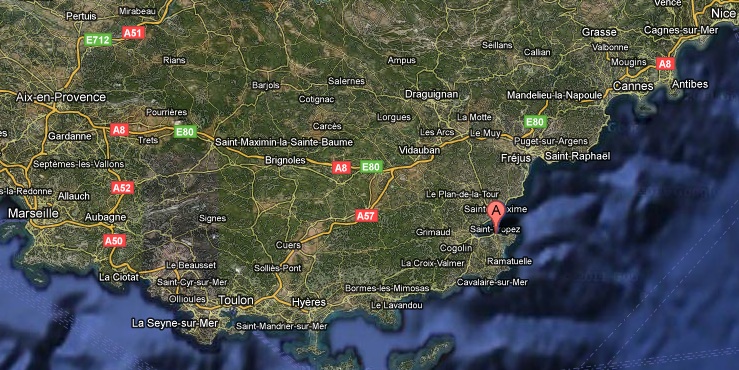 We've already done a general post on how to get from Nice to Saint-Tropez, and that should do you fine in summer. And if you're coming from Nice. But what if you're coming from Paris, or Marseille? What if your favorite kabillionaire couldn't loan you his helicopter and/or personal driver? This article will give you the low-down on arriving, if not in style, then at least in a reasonable amount of time.
First, take a look at the map above. That's a map of the southern coast of France, with Marseille on the extreme left (west) and Nice on the extreme (upper) right (east). Just so you know where it is in relation to everything else.
Now, take a look at this map: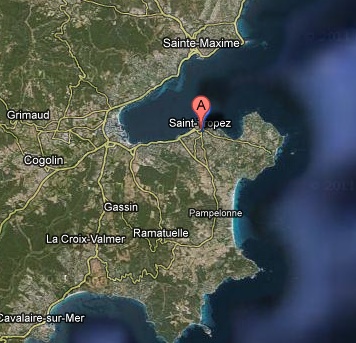 This, boys and girls, is why it is SO FREAKING HARD to get to Saint-Tropez: It's on a cape that's got one road in, one road out, and no train station. So now that we know where it is we're going, we'll talk about how to get there.
Referring to the first map above, you need to get to either Toulon (to the west, halfway between Marseille and Saint-Tropez) or Saint-Raphael (to the east, halfway between Saint-Tropez and Antibes). More specifically, you need to get to the train station in those towns. This is your staging area for your full-on glam assault.

In both Toulon and Saint-Raphael, the bus station (gare routière) is directly next to the train station. Both of them are well-organized, used to foreign travelers, and have clearly marked bus lanes, directional signs and departure screens. You're in good hands.
The bus from either direction costs a grand total of €2, and you can pay the bus driver when you get on – just say "Saint Tropez" and give him the money. They're local buses but they're comfy, with luggage compartments under the bus.
The ride from Toulon takes a little under two hours; from Saint-Raphael it's about an hour and some. Of course, this depends on traffic – remember, it's one road in, one road out. Saint-Tropez is the last stop for both lines, so feel free to nap.
When you arrive in Saint-Tropez, you'll be facing the parking lot in front of the harbor and the city itself will be to your right.
OK? OK! Go forth and be fabulous. And if you want to rent a car and just be done with it, here's a handy widget to help you do just that: