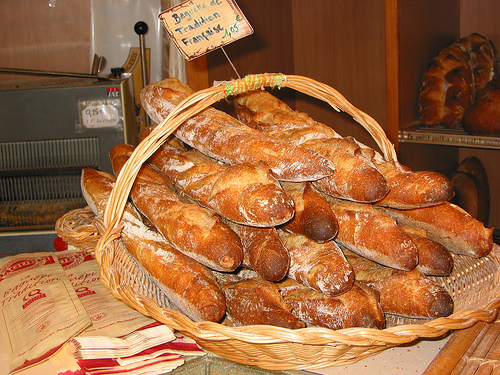 While France is certainly home to the big chain grocery stores we are accustomed to in the U.S., any traveler to France will also find a wide array of stores specializing in almost every ingredient. And with food as a national pastime in France, it is no wonder that the country is full of shops offering all kinds of of cheese, breads, pastries, meats, chocolates and more on every corner.
In fact, these specialty stores have such delightful treats and fantastic ingredients that even if you are staying in a hotel with no access to a kitchen, you can easily assemble the perfect gourmet picnic style meal. Here is a guide on the types of specialty food stores you'll see around France.
La Pâtisserie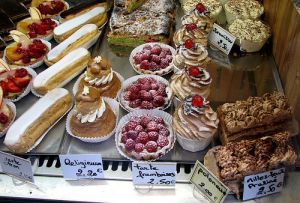 If you are a fan of delicious, sweet and superbly flaky treats, then you'll absolutely fall in love with the French pâtisseries. Hell, even if you didn't think you had a sweet tooth, you'll still fall in love with the French pâtisseries. They're great for a decadent snack, and they also make a wonderful gift to bring to someone's home or as a way to say thanks to your new local friends. And even though there are so many, each baker has his or her own signature pastry – so don't be shy about asking for it. Some of them look too pretty to eat!
>>Drool over, and learn more about, French pastries.
La Boulangerie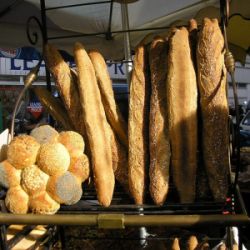 Even the tiniest village in France is guaranteed to have at least one boulangerie with better bread than you'll find almost anywhere in the U.S. And those that don't have a daily bread truck that comes around.
While not all boulangeries also have pastry chefs (pastry shops are called pâtisseries), many boulangeries do have more than just a wide assortment of crusty and delicious breads to chose from and also offer up an array of sweet treats, cakes and savory items.
To find the best boulangerie, either ask a local or look for the longest lines early in the morning before the bakery opens. They always say go where the locals do, and when it comes to finding the best boulangerie in town, this is definitely the best piece of advice to follow.
Pick up an extra baguette for the walk home – it's just too tempting not to break off a piece.
Le Torréfacteur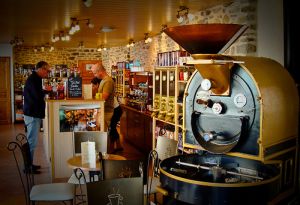 The only thing that can make your morning croissant even more delightful is eating it paired with a fresh cup of coffee. The torréfacteur sells fresh-ground coffee from around the world (though don't count on finding one of these in smaller villages in France). These are interesting little shops that put Starbucks to shame. You can bring your own pastry to most, but some are more elaborate and have their own pastry selection – so make sure you ask before breaking out your baked goods.
La Boucherie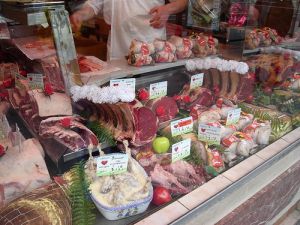 While you probably won't be cooking many meats if you are traveling in France and staying in hotels, it doesn't mean any trip to France is complete with a stop by the boucherie, or butcher (unless you're a vegetarian). You'll usually be able to spot the boucherie by chicken carcasses hanging in the windows.
The boucherie does sell many raw and unprepared meats, but you can also find some prepared dishes ready for reheating along with an assortment of pâté at some boucheries. They also often have rotisserie chickens all cooked up to go, which turns your baguette-and-cheese lunchtime picnic into a more solid meal.
La Charcuterie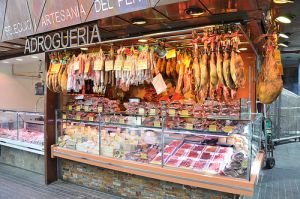 Not unlike a boucherie, a charcuterie is kind of like a butcher shop except that it specializes in pork. Here you will find a wide assortment of of delicious salami and sausage (saucisson and saucisse). They also have dried or cured meats from other animals; wild boar is a favorite. After a stop to get a bottle of wine, a baguette and a good piece of cheese, you should make your way to the chacuterie to pick up a fresh saucisson or pâté.
Le Chocolatier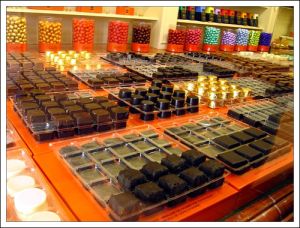 Any store that is dedicated entirely to chocolate will always rank high in my book. Here you will find delicate and exquisite chocolates sold by the gram or by the piece. You'll feel like you are in heaven as soon as you step in the door.
But far from being a kid's candy shop, these are serious artisans who take great pride in their chocolates. Be daring and try some of the flavors, such as lavender or chile pepper. The super high-end stores can get a bit expensive, but they often have specials for gift sets that are perfect to bring back to the folks at home.
Le Cave à vins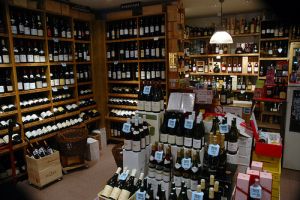 Since wine is an integral part of any and every meal in France, you will certainly be making at least one stop at a cave to pick up a few bottles of wine to enjoy while you travel. Some caves also have tables in their stores and allow customers to sit and sip for a small corkage fee. And, a lot of places have special tasting nights, where you can meet producers and wine experts while sipping on the shop floor.
But don't ask for a Chianti. Caves tend to stick to regional wines, so it's a good way to sample the local producers – especially if you're looking to whittle down a list of vineyards to visit.
Le Fromagerie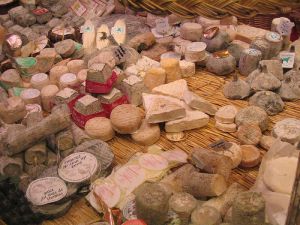 These are among my very favorite stores in France. At fromageries you'll find every kind of cheese you could imagine—from fresh to aged, sheep to goat to cow, sharp to mild, hard to soft, raw to pasteurized.
You can always sample cheeses before you buy (which is half the fun) and you'll find cheese from regions all over France. So, don't be shy about tasting, or asking for a good cheese to try. Cheese sellers are notoriously friendly.
Fromageries also often carry cage-free, free-range eggs, cream, butter, yogurt and other dairy products (though strangely you'll rarely find milk as the French tend not to be big milk drinkers).
L'Épicerie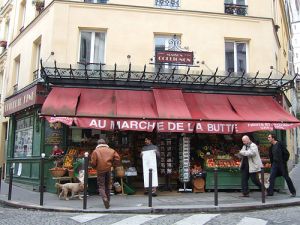 (also primeurs, fruits et legumes, and sometimes alimentation)
A l'épicerie generale is a lot like a corner store, convenience store or small market in the U.S. It's a general grocery store (that's much smaller than a supermarché) that sells usually one choice of the most popular products.
Like convienience stores, these tend to be open later, though they have a more assorted selection of groceries than your typical 7-11.
Look for a primeur. Primeurs are stores that have fresh supplies of produce daily and often have great selections of local, seasonal and regional produce for good prices.
Le Supermarché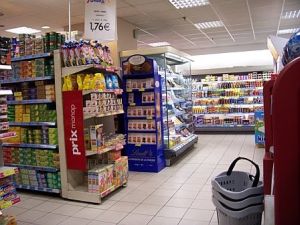 If you are looking for a big grocery store offering up everything under one roof, then simply visit a supermarché. Modeled after American-style grocery stores, these will look much like what you are used to seeing at home–with packaged foods, meats, cheeses and more all in one spot.
Monoprix sometimes sells clothing, cosmetics and other items in addition to food. Inno is large and a bit more upscale. And Carrefour has been taking over the country, with different sizes and names – regular Carrefour is almost like a Walmart; Carrefour Market is your run-of-the-mill supermarket; Carrefour City rarely has a cheese counter or butcher, and are smaller markets with less variety.
La Rôtisserie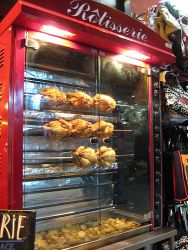 When you see a shop with chicken roasting on spits on the sidewalks or in windows, you've stumbled upon a rotisseries, which specializes in these types of roasted birds.
They also usually sell other prepared foods ranging from side dishes to entire meals. If you pick up a roasted chicken, make sure to ask them for the potatoes they have roasting at the bottom.
Just one note here, though – be on the lookout for a disturbing trend I've seen: rôtisseries that put the newer chickens on the top spit. This means that as it cooks and bastes, the raw chicken juices are dripping down onto the cooked chickens. Not good! If you're not getting your chicken from the top spit, you can run this risk.
Le Traiteur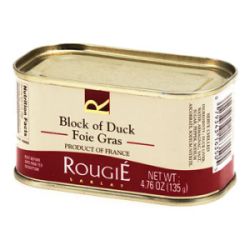 Translated as the "caterer," these shops are where you'll find a ton of specialty items usually reserved for special occasions. This is a great place where you can pick up cans of foie gras, smoked salmon roulade, escargot and more. You can also often purchase whole meals, package products and wine here.
photo credits: baguettes, boulangerie, fromagerie, pastries, rotisserie, monoprix, l'epicerie, cave a vins, chocolatier, boucherie, poissonerie