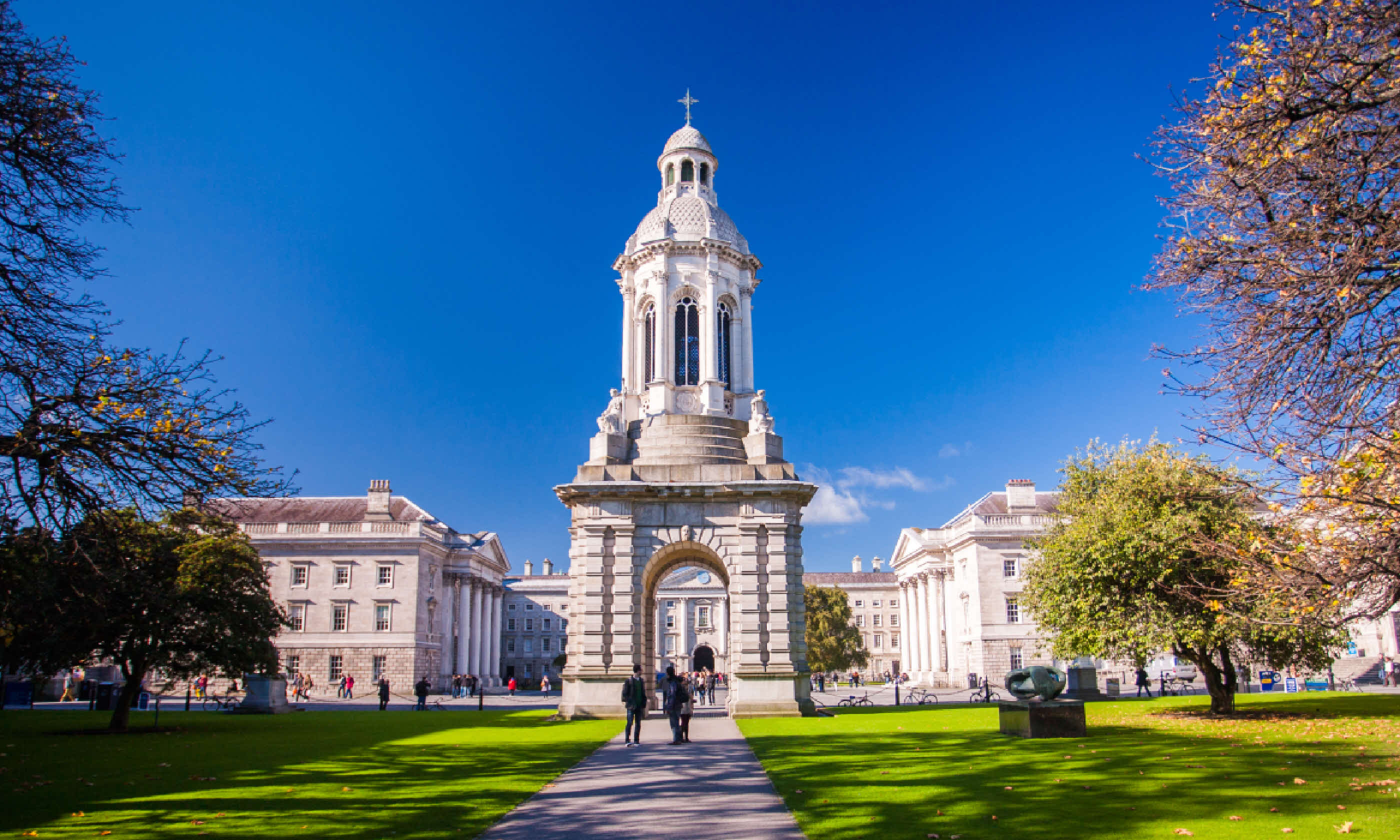 First 24 hours in Dublin
History, culture, great gourmet experiences... Is there anything that Dublin doesn't excel in? Here's how to make the most of your first day in the Emerald Isle's capital
Before you arrive
Dublin has started to emerge from the recent recession with a vitality that might not have been predicted a couple of years ago. And as it continues to champion its traditional heroes, it also thrives on the new, the niche and the unique.
There are plenty of ways to see the city through its past – the James Joyce Centre conducts regular tours based on the author's works, and Kilmainham Gaol will offer you a good dose of history and an insight into the political makings of Ireland. But there is a new beauty here, born out of resilience and a capacity to adapt in adversity. If you haven't visited for a while, don't expect the same city that you left behind before. A lot has changed.
At the airport
Dublin Airport (DUB) is situated 10km north of the city. Comprised of only two terminals, the second of which was completed in 2010, it's easy to navigate and well-connected to the city centre and all major Irish towns and cities. Bus Éireann operate direct services nationwide, as do CityLink and many other providers. Plan your onward journey by downloading the Journey Plan app provided by Transport for Ireland.
It might also be a good idea to invest in a Leap Visitor Card – which can be bought in the Spar shop at the arrival halls of both terminals. The smartcard will cost you €19.50, and will allow you unlimited travel for 72 hours on all Dublin Bus, Luas tram line and DART rail services.
Getting into town
The Aircoach operates between the airport and the city centre 24 hours a day, and a journey to O'Connell Street will take about 25 minutes. Tickets can be bought for €7/€12 (adult single/return) at the Aircoach stop outside the door, but cheaper deals can be found online. AirLink 747 is run by Dublin Bus and offers a direct link to the main bus and rail stations, Connelly and Heuston. It also services a wider area of central Dublin, including the 3arena (previously the O2), Christchurch and certain hotels and guesthouses. Tickets are €6/€10.
Dublin Orientation
The best way to discover the city is on foot. There are tour buses available, but these will be an unnecessary expense in a city that will find countless other ways to lighten your wallet. Asides from Dublin Bus, the Luas is also an easy way to get out to the suburbs and to some of the major attractions.
First day's tour
Upon arrival at this most eager-to-please of cities, many fall for the lure of Dublin's 'cultural quarter', Temple Bar, and its promise of mayhem and a taste of the Irish
craic
(entertainment). And whilst some areas there will prove to be worthy of your time – Saturday's food market on Meeting House Square and the theatrical spaces of the Project Arts Centre and Smock Alley in particular – there are countless alternatives to this hub of extortionate pint prices.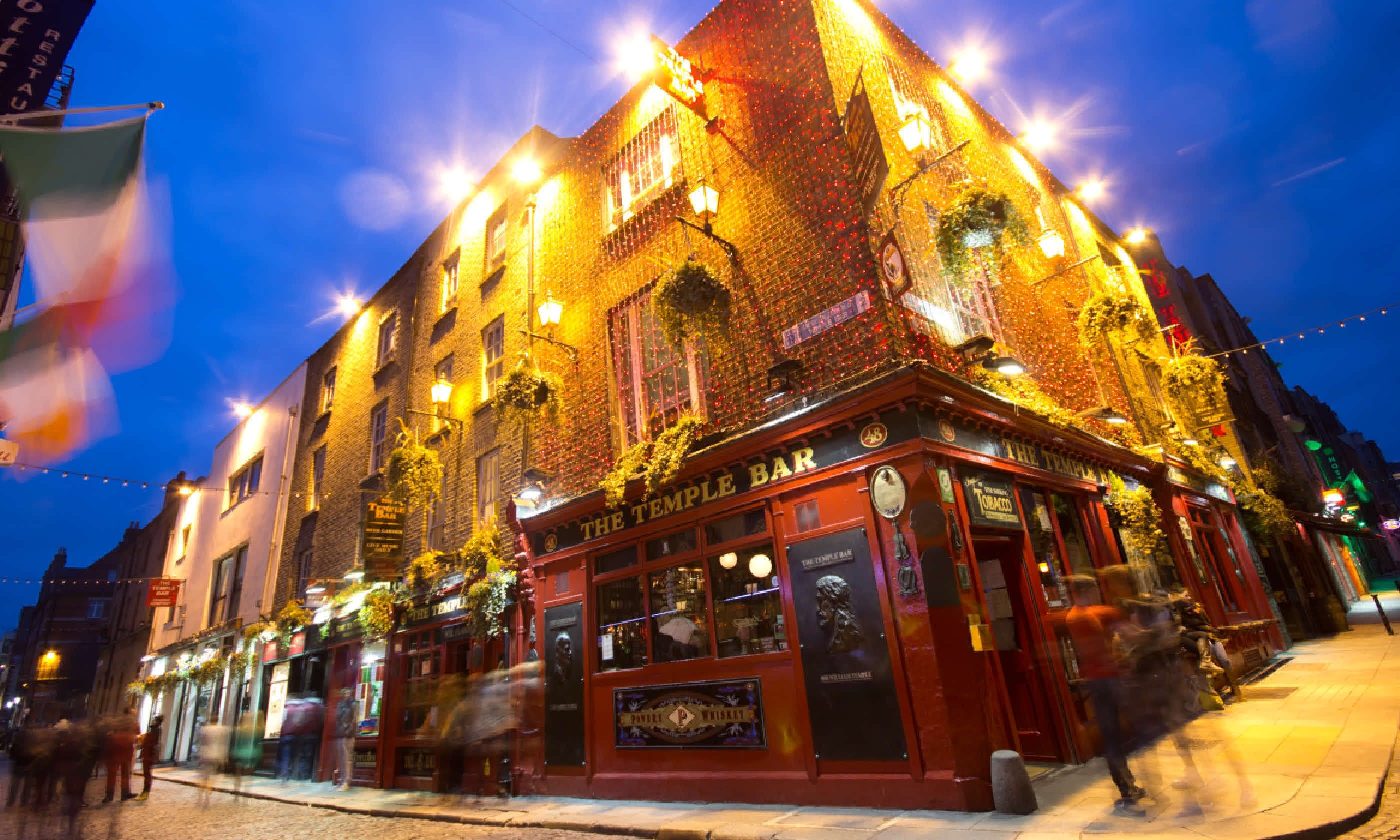 Night street scene in the Dublin
Food lovers have the chance to fall for the city all over again. Dublin is currently enjoying a culinary renaissance so you will be more than spoiled for choice. However, with more and more Dubliners opting to dine out as a result, it also means that advance bookings are becoming something of a necessity – so don't get caught out.
Stray from the crowds and start your day on Capel Street with breakfast at Brother Hubbard – an independent cafe with a delectable range of fresh pastries and a simple but fulfilling menu.
Afterwards, cross Grattan Bridge and head on over to the boutiques around Cow's Lane. Or, alternatively, carry on towards Dublin Castle and visit the Chester Beatty Library. Admission is free, and exhibitions include treasures from some of the world's most influential cultures and religions, all accumulated by the Irish-American millionaire, Sir Alfred Chester Beatty.
A walk around Dublin's central university, Trinity College, always adds charm to an afternoon. Walk through the grand (and recently-restored) Front Gate to Front Square, and go towards the Old Library. Admission to see the the ancient illuminated Gospel manuscript, the Book of Kells, is now €10 for adults, but includes entrance to the beautiful Long Room – the main chamber of the Old Library.
For dinner, chance your arm for a table at George's Street's best Mexican restaurant, 777. Reservation is only available for groups of 6 or more people, but they do take names at the door so don't be late. And be sure to try their tequila and tonic cocktail, the T-N-T.
First night's stay
Top end: The Merrion Hotel
(Upper Merrion St., Dublin 2). Located at the heart of the city, this 5-star luxury hotel boasts a gym, a spa, a pool, a cocktail bar and two restaurants – one of which has 2 Michelin stars. The hotel is made up of four renovated Georgian townhouses, and situated a stone's throw away from the charming and understated Merrion Square park. Prices for double rooms vary from €195 a night to €1,450.
Mid-range: Drury Court Hotel
(28-39 Stephen Street Lower, Dublin 2). Situated between the designer-laden Grafton Street and the eccentricities of George's Street Arcade http://www.georgesstreetarcade.com/, this hotel offers the best of both worlds on its doorstep. Prices vary from €120 to €299.
Budget: Generator Dublin (Smithfield Square, Smithfield, Dublin 7). This hostel is located near the Luas line, and is a short tram ride away from the city centre. It stands next to the Old Jameson Distillery, and offers a stylish and casual shelter. The hostel bar is open late most nights and often hosts events. Breakfast and dinner is also available. Free wi-fi. 24 hour reception. Dorms are priced between €12 and €18. Private rooms are available from around €56.
Stay or Go?
Dublin is big enough to explore for at least a few days, but small enough that it won't overwhelm you like some capital cities. It's busy and diverse, but you won't need to go far for some breathing space if you need it.
If you do have the time, it's worth venturing outside the city, and the DART railway allows for easy commuting to some beautiful places. Get on at Connolly station and go towards Howth Head, about 15km north-east of Dublin. Here you'll find a sea-side village with a view, brimming with restaurants and an array of attractions, including boat trips to the bird sanctuary of Ireland's Eye. For walking routes around the peninsula, visit Discover Ireland.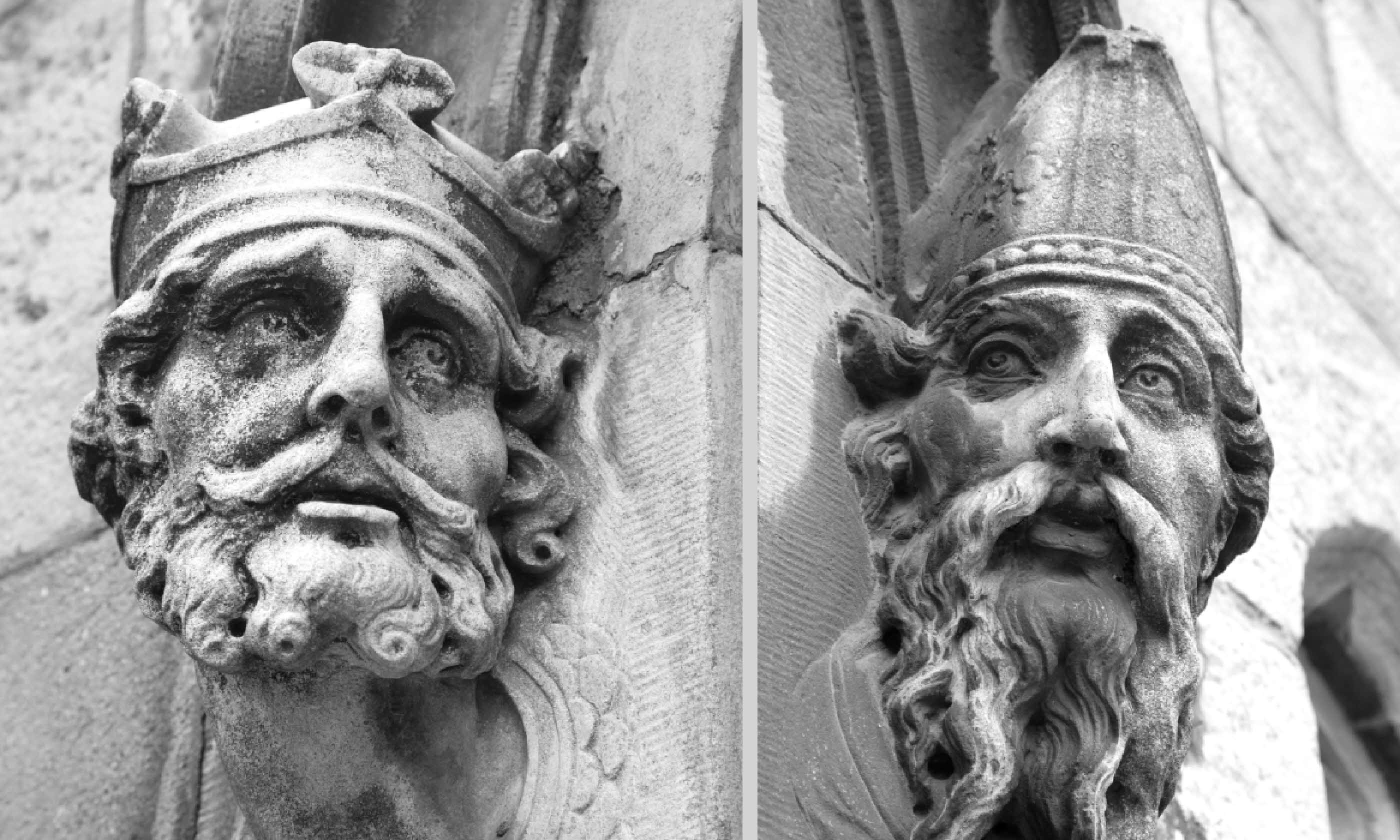 Statue Heads on Dublin Castle
Or, head south towards Glendalough where you'll come across some outstanding scenery. There are plenty of activities to choose from as well, including hiking, cycling, golf and fishing. Regular buses run from the city. For times, refer to glendaloughbus.com or buseireann.ie. Alternatively, hire a car and you'll be able to reach attractions such as the Powerscourt Estate and Gardens at your leisure, where you'll also find the highest waterfall in Ireland.
Essential Info
Population:
1.3m
Language:
English. However, it's important to note that the first official language of Ireland is in fact Gaeilge, or Irish. You're unlikely to hear much of it in Dublin, but you will see it on all official signs.
Timezone:
GMT (British Summer Time GMT + 1 from Mar-Oct).
International dialing code: +353
Visas:
If you are a citizen of an EU/EEA member state or Switzerland, you will not need a visit/holiday visa to travel to Ireland. Certain nationalities will require a visa, and others will also require a transit visa. For more information, visit citizensinformation.ie.
Currency:
Euros (EUR €)
Health issues:
Nothing major.
Web resources:
visitdublin.com is the official tourist board site.