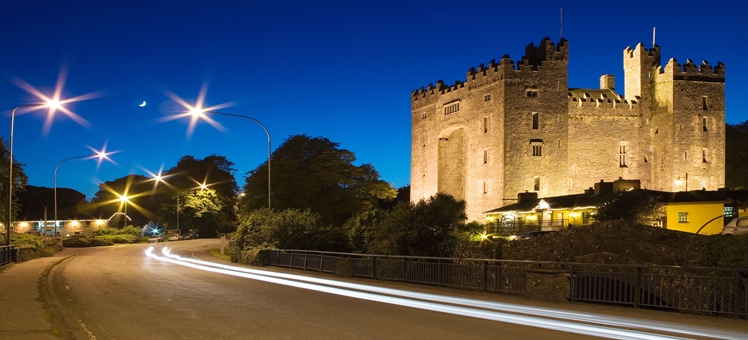 From fishing to traditional dancing, County Clare offers a large variety of activities for all ages and at most times of the year. Whilst the summer sees people flock to the seaside towns to sunbathe and indulge in the watersports, the cooler month's offer horse riding, coastal walks and medieval tours. With Ireland's traditional music and dancing being popular in every town, entertainment is plentiful and friendly locals welcome everyone to join in.
Ennis
In the heart of the town lies Ennis Friary, a stunning 13th century building which presents a variety of 15th and 16th century sculptures that have been carved into the limestone. A must-see is the Sculpture Trail, created to depict historical, cultural and sporting events throughout the town. There are endless amount of walks in and around Ennis, some can be taken as a tour and there are numerous leisure complexes for swimming, skateboarding and bowling. Clare Museum displays history from over 6000 years ago through excavations, and items that portray the musical heritage, the King of Ireland and symbols of power throughout the country.
North Clare
Due to the excellent coastal region there are numerous Looped Walks in North Clare, including the Ballyvaughan Wood Loop, which guides you through prehistoric remains and scenic views. The Ailwee Cave is one of the oldest caves in Ireland and where you will find an underworld of strange formations and a frozen waterfall. There is a Birds of Prey center in the Ailwee Mountain which gives you the chance to interact with one of nature's top predators, the hawk. Flaggy Shore Geosite is showered with rocks that have been transported from further afield and is full of fossils, some dated back 330 million years.
South Clare
Visit a collection of attractions in Bunratty; from the Castle to the Folk Park and the collection that is housed inside the castle, you won't be short of sights here. You can explore the medieval fortress, farm houses and over 400 items of medieval artefacts. Clarecastle is just south of Ennis and is home to a beautiful abbey, founded in 1189 and also Ireland's first renewable energy center, Imecofarm, the perfect place to visit if you're interested in wildlife and all things eco-friendly. You will also find the ruins of a 16th century castle in Newmarket-on-Fergus, Dromoland Castle, and the area provides a golf course, pigeon shooting and trout angling.
East Clare
The Holy Island is a must for anyone visiting East County Clare where you can walk amongst the church ruins, the round tower and Romanesque arches. It was used as a pilgrimage center for hundreds of years and its inhabitants have battled to keep Christianity the main faith. The Aistear Iniscealtra Community Park is in the center of Mountshannon village and hosts a children's playground and a maze for those interested in history. The maze is a journey through time, created to celebrate the spirituality of Ireland over the past 9,000 years. Over the summer months the area hosts a large amount of musical festivals which allows visitors to participate in workshops and watch a variety of performances.
West Clare
Ireland's most visited site, The Cliffs of Moher, are stunning natural sculptures that visitors can marvel at through walking tours, boat trips or a short break. For those who truly appreciate nature, take a walk around The Burren, created over 350 million years ago whilst underwater, the rocks are full of twists and swirls and the area contains over 70 ancient burial sites. The most passionate county in Ireland for its traditional music, especially in Doolin, where pubs play music seven nights a week, 363 days of the year so make a pub visit a priority when you're in the area.