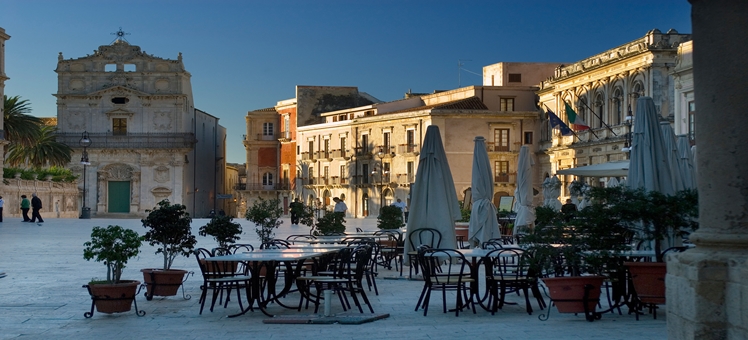 A nation famous for their food, you'll be hard-pressed to find something in Sicily that doesn't suit your tastes. Freshly grilled swordfish, hearty meat platters, rich parmigiana and crispy arancini: Sicily isn't somewhere you go to lose weight. Experiencing a new wave of culinary creativity, dining choices are now extremely varied. Choose from a rustic trattoria to a swanky Michelin-starred restaurant, a relaxed bar to a cozy country restaurant: whatever you decide, though, you won't be disappointed.
Somewhat of a national dish, pasta con le sarde is a must-try meal when visiting Sicily. Traditionally formed of pine nuts, raisins, fennel, sardines and macaroni, this hearty meal offers an authentic taste of the classic Sicilian diet.
Palermo
Fast-paced, bustling and with all the charisma of an Italian capital city, Palermo is a great place to enjoy a crash course in Sicilian cuisine. Full of jostling street markets, food is one of the most popular trades you will see lining the market stalls. Head to Vucciria Market to trawl through a tempting selection of fresh breads, cheeses and seafood. Alternatively, make your way over to Trattoria ai Cascinari, tucked away in the antiques quarter of Palermo, to enjoy some traditional antipasti amongst a rustic Sicilian setting.
•
Trattoria ai Cascinari
, Via D'Ossuna 43-45,Palermo.
Taormina
Just like the rest of the island, the food served in Taormina is packed full of pungent flavors. A dish you'll find served in abundance here (as well as everywhere else in Sicily) is Pasta alla Norma, an aubergine infused pasta served with a rich tomato sauce and topped with smoked Ricotta cheese. For romantic dining on an al fresco terrace with panoramic views, head to Ristorante Baronessa. Or, for a more unusual experience, visit Ristorante Casa Grugno to enjoy a traditional Catalan townhouse and fragrant patio garden.
•
Ristorante Baronessa
, Corso Umberto I, 148, 98039 Taormina Messina.
Noto
Tucked next to the city of Siracusa, Noto is a town famed for its food. Woven between the Baroque architecture and golden gleaming loggias are a handful of inviting trattorias, cafes and gelaterias. For those with a serious sweet tooth, head to Caffe Sicilia or Corrado Costanzo to sample some of the most delightful flavors of ice cream you will have ever seen. Sprinkled amongst the jasmine, rose and tangerine scoops, you'll find a tempting array of sponge cakes and candied fruits too. Next on your list to explore should also be Modica, known as the capital of Sicilian sweets.
•
Caffe Sicilia
, 125 Corso Vittorio Emanuele, Noto.
Ragusa
A jumbled mix of architectural styles, Ragusa is perhaps of one the most interesting places to dine in Sicily. Divided into two distinct districts, the upper and lower town (also known as Ragusa Ibla and Ragusa Superiore), there are plenty of places for a foodie to explore. For a taste of Sicilian fine dining, head to Duomo to indulge in an innovative menu paired with a seasonal wine selection. For something a little less formal, however, visit Al Bocconcino to tuck into a cheesy pizza amongst a relaxed setting.
•
Duomo
, Via Capitano Bocchieri, 31, 97100, Ragusa.