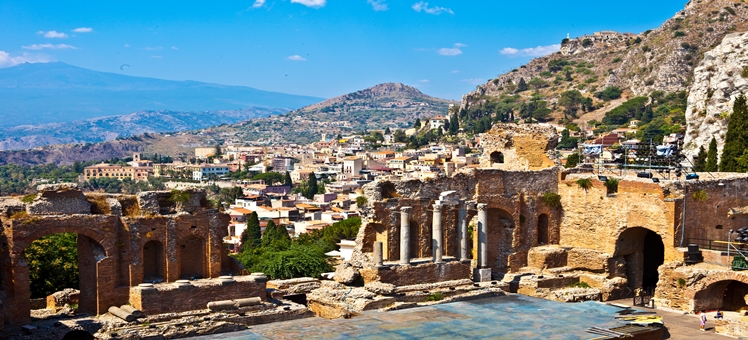 As the largest island bobbing in the Mediterranean Sea, Sicily's sprawling coastline is filled with local landmarks. A treasure trove of smoldering volcanoes, archeological sites and Michelin-starred restaurants, there are plenty of areas to explore. Once ruled by the Ancient Greeks and part of the Magna Graecia, here you will uncover historical gems at every twist and turn. Soak up architectural splendors such as the Norman churches with their glittering gold mosaics in Palermo (Palatine Chapel), and the cathedrals of Monreale and Cefalù.
Palermo
For your fill of Sicilian culture, head to the bustling capital. Dotted with Norman palaces, medieval and Art Nouveau buildings, Palermo is somewhere that packs a punch. A destination famed for its mouthwatering gastronomy, this port city is also a great spot to sample some authentic Sicilian cuisine. Head to one of the city's many street markets to peruse colorful stalls loaded up with fresh seafood, local breads and cheeses. The Vucciria Market, found in the heart of Palermo, is one of the best examples of Sicilian markets. While here, make sure to wander along to Palermo Cathedral to admire the exterior's varying architectural styles that have come to represent the city. Also visit the Palatine Chapel (Cappella Palatina) to witness a jaw-dropping interior decorated with glistening gold mosaics.
Taormina & Mount Etna
Lording over Sicily's eastern coast, Taormina's prominent position makes it one of the charismatic towns to explore. Speckled with blooming oleander and colorful bougainvillea, the tiny town is renowned for its striking costal views overlooking Mount Etna and its Greco-Roman amphitheater. An icon of the island, claiming the title of Europe's highest volcano, Mount Etna draws in the crowds to Sicily. With countless hikes offered to explore the rocky and volatile façade of the volcano, ambling up an active volcano is bound to be an experience you'll never forget. For those of you who want to soak up the views without the cumbersome climb, however, there is a cable car that runs to a height of 2,400 m from the south side of the volcano.
Valle dei Templi (Valley of the Temples), Agrigento
Perhaps the most notable of attractions, Agrigento's Valle dei Templi (Valley of Temples) stands at the epicenter of Sicilian culture. An archeological complex of temples contained within the ancient city walls of Akragas, this historic site is well worth your time. Housing five Doric temples, these timeless architectural structures dominate the surrounding landscape, affording each one an impressive coastal view across Sicily. All in varying stages of disrepair, this magnificent UNESCO World Heritage site offers a glimpse into the island's potent historical past.
Syracuse
Known locally as Siracusa, this Corinthian settlement has become a significant Sicilian landmark. Etched into the island's past, the city was once a powerful intellectual rival to sparkling Athens. Today transformed into an elegant and cultured city in its own rights - thanks to the charms of the old town Ortigia – Syracuse is a popular tourist destination. Make sure to stop by the striking Archeological Park (Neapolis), home to an ancient amphitheater that hosts a classical drama festival from May to mid-June. Another must-see is the majestic Duomo, the city's cathedral that comes to life at night with beautiful illuminations.
Aeolian Islands
A volcanic archipelago sprinkled with rugged coastline, hidden craters and jagged cliffs, the Aeolian Islands offer some of the most dramatic scenery. Not just famed for their landscape, however, they are known for their crystalline waters, shimmering in different shades from turquoise to ink-blue. Formed of seven main islands - Vulcano, Lipari, Salina, Panarea, Stromboli, Alicudi and Filicudi - amongst the volcanic scenery, you can relax on secluded beaches or snorkel and dive amongst the native marine life during hot Sicilian summers. Stromboli also houses the most active volcano in the world: a hike up to the crater or boat trip at dark to the 'Fire Slide' is a once-in-a-lifetime experience.