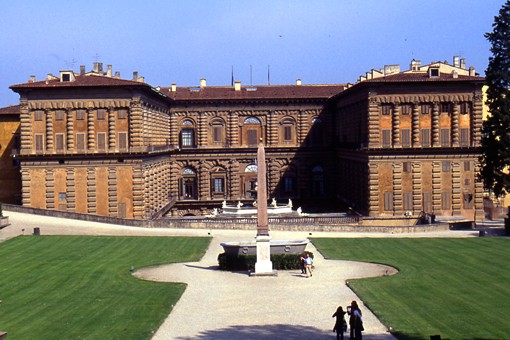 A glass of chianti in a piazza, sunset over the River Arno and passionate paintings and frescoes – Florence wears its heart on its sleeve. See the city of romance in soft focus.
Walks in Boboli Gardens
Stroll through manicured avenues past fountains and statues in the regal, hilltop Boboli Gardens of Pitti Palace, just south of the River Arno. Stop for postcard panoramas of Florence's terracotta rooftops.

Pitti Palace, Florence


The romantic backdrop at Piazza Santissima Annunziata
Walk under shady arches and porticos through arcades that line the edges of the picturesque Piazza Santissima Annunziata. This intimate square was the romantic setting for the costume drama A Room with A View.

Piazza Santissima Annunziata, Florence


Jewellery gifts on the Ponte Vecchio
Browse the gleaming jewellery shops and goldsmiths' workshops in the old merchant stores built into the arches of the medieval Ponte Vecchio bridge for love tokens, while serenaded by street musicians.

Ponte Vecchio, Florence


Intimate dining in Santa Croce square
Restaurants in Florence are found in some of the most idyllic settings. Choose a trattoria and dine on rustic Tuscan dishes – Fiorentina steak or the heart-warming white bean soup, ribollita. Choose Il Francescano for softly lit intimacy and rustic décor near the marble facade of the Santa Croce church.

Il Francescano, Largo Bargellini, 16 - (piazza S.Croce), 50122, Florence


Classical music serenades
Intimate theatres in Florence provide the perfect setting for an evening out with your loved one. Catch enchanting chamber music at Teatro Goldini near Pitta Palace, or opera under the stuccoes and balconies at the 17th century Teatro della Pergola.

Teatro Goldoni, Via Santa Maria, 13-15, Florence


Romantic walks at dusk on Via dei Calzaiuoli
Join the locals at dusk for their cool evening stroll – or passeggiata. Amble hand-in-hand past street performers and shop fronts on the wide Via dei Calzaiuoli avenue, which links the Duomo and the grand Piazza della Signoria. Or watch the sunset over the River Arno from Ponte Vecchio bridge.

Via dei Calzaiuoli, Florence
Share a bottle of chianti at Gustavino
Full-bodied Tuscan wines – chianti and brunello – are the ideal drinks for a romantic toast. A wine-tasting evening in the old part of town makes a great date. Quaff local wines from the cellar at Gustavino's wine bar just north of Piazza della Signoria – they have over 800 wines to choose from.

Via della Condotta 37R, Florence


Chocolate tasting at Fiera del Cioccolato
Handmade chocolates from Florence are a local art form. Take a city break in Florence in January for bitter-sweet cakes, artisan confectionary and chocolate tipples at the Chocolate Festival, Fiera del Cioccolato, in Santa Croce square.


Spa treats at Montecatini
Romantic couples can truly indulge themselves at the natural hot spas in the peaceful town of Montecatini between Florence and Pisa, about an hour's drive away. Soak in the salty thermal swimming pool at the Tamerici or Torreta resort, or dip into a healing mud bath at Grocco spas.


Romantic landscapes at the Uffizi Gallery
The Uffizi Gallery houses Renaissance and religious art. Look out for Italian romantic landscape painters like Salvator Rossa or hunt down the famous lute-playing cherub by Rossa Fiorentino.