Following closely in Rome's footsteps, the city of Florence voted recently to implement a hotel tax, which took effect July 1. Although the cost of the tax itself is small in comparison to the amount you'll spend on your whole Italy trip, it doesn't feel good to think you've been swindled out of money unexpectedly – and that's exactly what it may feel like if you don't know the details of the new Florence hotel tax in advance.
Here, then, is information about the Florence hotel tax, including how much it will cost you and how to avoid paying more tax than you need to during your trip.
Florence Hotel Tax Breakdown: What You'll Pay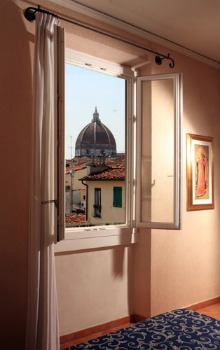 Like the Rome hotel tax, the tax in Florence is also based on how many stars a hotel has – more stars equals a higher per-night tax. In fact, calling this a "hotel tax" isn't completely accurate, either, as it applies to hostels, apartment rentals, and even camping.
Generally speaking, the tax amounts to €1 per person per night and per hotel star – but here's a more detailed breakdown of what you'll pay per person/per night for the various accommodation options in Florence:
Hotels

5-star – €5
4-star – €4
3-star – €3
2-star – €2
1-star – €1

Hostels ‡ – €1
Campgrounds

4-star – €2
1-star, 2-star, 3-star – €1

Apartment Rentals – €1-4 (depending on the legal designation of the property – ask how much the per-night tax is when you're booking; explained a bit more below)
Agriturismo*

3-spiga – €3
2-spiga – €2
1-spiga – €1

Residence**

4-key – €4
3-key – €3
2-key – €2
‡ Note that while hostels are listed as charging only €1 per person per night, the process of getting licensed as an official hostel in Italy is more complicated than many people are willing to deal with. Because of this, many of the places calling themselves "hostels" may not be officially registered as "hostels" with the city – and will, therefore, charge a different per person/per night rate. Ask when you're booking what the tax rate will be.
* Agriturismo properties are given "spiga" designations rather than "star" designations; there are 1-3 spighe available. The word spiga in this case means a stalk of wheat, which is the symbol of agriturismi.
** Properties that are essentially residential hotels are called "residence" in Italian; they have many of the services of hotels, but people tend to stay in them for much longer periods – like you might in an apartment rental (but they're often much cheaper than apartment rentals). These are given "key" designations – chiave in Italian – rather than "stars."
A few important notes about the Florence hotel tax:
As noted, the tax is per person per night – so the tax would, for instance, mean that a couple staying for 4 nights in a 3-star hotel would pay an additional €24 in tax.
This tax is in addition to the 10% Value Added Tax (VAT) already included on hotels and other accommodation in Italy.
The maximum number of days visitors can be taxed is 10 – stays longer than 10 days won't incur taxes after the 10th day.
The following groups are exempt from this tax:

children under the age of 10
people assisting a medical patient who is admitted to a health facility in the area (including up to two parents of an underage patient)
>> Official details about the Florence hotel tax (PDF, in Italian)
How to Avoid the Florence Hotel Tax (or At Least How to Pay Less)
So, you aren't lucky enough to have relatives or friends in Florence with whom you can stay while you're visiting the Tuscan capital? That will mean booking a bed in the city, and now that comes with an additional tax. Since the amount of tax per night varies, there are a few things you can do to limit the amount you're paying on accommodation taxes.
Skip Florence – If Florence is among the cities you must visit during your trip, then this isn't an acceptable solution. But if you've been to Florence before, or you don't have a particular yearning to go to Florence during your upcoming Italy trip, this could be all the impetus you need to bypass Florence and visit other cities in the area instead.
Stay Outside Florence – This isn't an ideal solution if you've got a long list of to-do items in Florence, because multiple day trips into the city will cost much more than just paying the hotel tax on a stay in Florence, but if you're already thinking of making Siena or Bologna your homebase and doing Florence as a day trip once during your stay, that's definitely a way to avoid paying this new accommodation tax. And there are plenty more good options for cities to call home for a few days in the area around Florence besides Siena and Bologna, too.
Stick with Fewer Stars – As you can see from the list above, more stars means a higher tax rate. In other words, choosing budget hotels with fewer stars can save you quite a bit of money (especially if you're traveling with a group).
Stay in Registered Hostels or Apartment Rentals – In Rome, staying in a "registered hostel" means you won't pay an accommodation tax, but in Florence even the "registered hostels" aren't exempt. Still, staying in a hostel that's actually registered as such with the city (see the note above) or staying in an apartment rental will cost less than some hotels, not to mention that the cost of the stay itself is likely to be quite a bit less as well. Remember that hostels aren't just for college-aged kids anymore (many have private rooms with en suite bathrooms now), and apartment rentals aren't just for the rich (they're money-savers in many cases).
Stay in Apartment Rentals that Aren't Businesses – Okay, this sounds weird, but part of the difference in the per-night cost of an apartment rental (as listed above) is whether the owners have it set up as a business entity rather than a private entity. The former means a higher tax rate, the latter a lower tax rate. You won't know the legal distinction unless you ask, and it's probably just easier to ask what the per-night tax rate is instead.
photos, top to bottom, by: hotelkursaal&ausonia, mnmarkk