What to Eat in Umbria: Food for Every Season
Extra Virgin Olive Oil:
Just as the vendemmia, or grape harvest, wraps up, the olive harvest begins. On hillsides across Umbria, olive groves are swarming with pickers on wooden ladders, tossing handfulls of the green-black fruit into their baskets or onto the nets they've spread on the ground under the twisted tree trunks. During the months of November and December, small towns in the oil producing area host Frantoi Aperti when visitors can visit the olive oil mills, taste the peppery new oil, and participate in dinners with autumn fare and live jazz or classical concerts.
Winter Foods in Umbria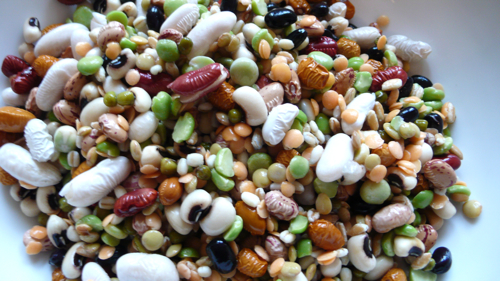 Truffles:
The most precious of the world's prized tuber — the white truffle — is a winter treasure. These humble-looking, warty fungi are found all year round, but black summer truffles are less aromatic than their delicate cream-colored cousins. Grated over pasta, ground in sauces and patès, or simply used to flavor a light frittata or mild cheese, truffles are a central feature on winter menus across Umbria. That said, their relative rarity (they are only found in a few places on earth) and the fact that they grow under the leaf-covered forest floor and can only be detected with the olfactory prowess of trained dogs means that, by weight, they are one of the most expensive foods around. There are three main truffle fairs in Umbria every winter – Città di Castello, Valtopina, and Norcia — where you can sample truffle products from across the region.
Legumes:
If truffles represent the haute cuisine of the region, legumes are testimony instead to its poor rural history. But on a cold, blustery winter night, I'll take a steaming bowl of creamy bean soup topped with a dribble of fresh olive oil and some crusty bread any day. Umbria has a variety of heirloom legumes which are indigenous to this region and worth seeking out: Lake Trasimeno's mild fagiolino (a eyeless type of black-eyed pea), Monteleone's farro, or spelt (actually a grain, but usually served in legume soups), Cave di Foligno's extremely rare fagiolo (a green or yellow variety of the navy bean), or the more easily found earthy cicerchie (a cousin to the chickpea). If you happen to be spending New Year's Eve in Umbria, make sure you put down a generous portion of Castelluccio's tiny, peppery lentils…each coin-shaped bean is a harbringer of good fortune for the coming year!
About the Author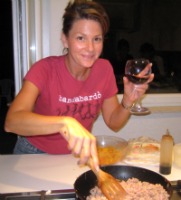 Rebecca Winke – Innkeeper and Blogger
Rebecca moved to Italy from Chicago in 1993 and shortly thereafter opened an agriturismo in her husband's renovated family farmhouse at the foot of Mount Subasio near Assisi, Umbria.
She spends her time taking care of guests at Brigolante, blogging about the lovely region she now calls home at Rebecca's Ruminations, and wondering about what strange winds blew an urban vegetarian to a pig farm in Umbria.