There's a lot of talk lately about the exact pizza place in Naples where "Eat Pray Love" author Elizabeth Gilbert (and consequently Julia Roberts, playing Gilbert in the "Eat Pray Love" movie) had her transformative experience – let's call it a pizza-gasm.
The Naples pizzeria featured in "Eat Pray Love" is, as you may already know, Pizzeria Da Michele, and it was already plenty famous before the book became a best-seller or the film crews showed up.
Now, however, the lines are worse than ever.
Here's the good news – if you're simply seeking some of the best pizza in Naples and you're not on an "Eat Pray Love" pilgrimage where you want to sit exactly where Gilbert or Roberts sat as they devoured their pies, then there are several other places in Naples where you can get spectacular pizza without waiting in a huge line or dodging "Eat Pray Love" enthusiasts.
In fact, depending on who you talk to, by avoiding Da Michele you might just end up having a better pizza experience.
>> There's a Google map toward the bottom of this post featuring all the pizza places listed below, but you have to zoom out to see the two that aren't right in the historic center of the city.
And here's a video of the pizza being made at my favorite pizzeria in Naples, Di Matteo:

The Best Pizza in Naples – Besides the "Eat Pray Love" Pizza Place
Di Matteo
Via dei Tribunali 94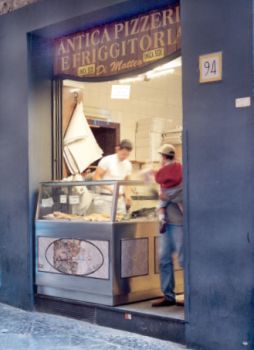 I haven't tried all the pizza in Naples (yet!), but so far my personal favorite is Di Matteo. I was directed there by Naples travel expert Katie Parla, and I think she salivated a little as she talked about the pizza there. In other words, I knew I had to go. Di Matteo has been serving pizza in Naples since 1936, and serves fried goodies as well as small pizzas from a window onto the street, or you can go inside (entry is through the kitchen and right past the pizza ovens, which is incredibly cool) and have a sit-down meal. It's right in the historic center of Naples, so you have no excuse not to go. (And here's Katie's write-up of Di Matteo, too, for added incentive.)
I Decumani
Via dei Tribunali 58
I Decumani is another Naples pizzeria recommended by Katie Parla, and is also on Via dei Tribunali. The same family has been making pizza at I Decumani for six generations, and unlike pretty much every other pizza place on this list, I Decumani doesn't seem to feature on other online lists of where to get pizza in Naples (except for Katie's, of course). In other words, if the lines at some of the other spots listed here are longer than you'd like, swing by I Decumani and see if you can get in more quickly. Note that Katie thinks they do pizza fritta particularly well, if you're just in the mood for a snack.
Il Pizzaiolo del Presidente
Via dei Tribunali 120-121
By now you're used to the address listed above, I imagine – Via dei Tribunali is home to more than its fair share of stand-out pizza places, including Il Pizzaiolo del Presidente. Del Presidente is another place that has both a window on the street and an inner restaurant, and it's impossible to miss the photographs that have given the pizzeria its name. After former US President Bill Clinton went to Naples and ate pizza here, the owner re-named it (which is why you'll see the pizzeria's website is festooned with American flags).
Trianon da Ciro
Via Pietro Colletta 42/46
As you'll note, Trianon da Ciro is one of the pizza places on this list that's not on Via dei Tribunali. That's not the only reason it stands out, however. It's been around since 1923, and is quite large for a restaurant (especially by Italian standards). Still, it can get quite crowded, so be prepared for a bit of a wait (or be prepared to go elsewhere). In the case of Trianon, the crowds are likely to be as much – if not more – made up of locals.
Sorbillo
Via dei Tribunali 32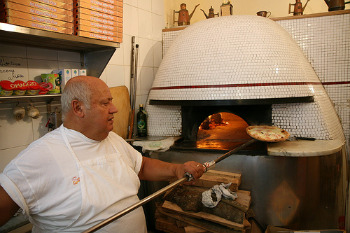 Pizzeria Sorbillo is another famous spot on Via dei Tribunali, and it's a family-run pizzeria that's been around since 1935. There are actually two locations on the same street, only a few doors apart, although only one is listed on the website. If the wait seems too long at the main location, ask about the second one. It's not as atmospheric, but the pizza's still damned good.
Brandi
Salita S. Anna di Palazzo 1-2
When I order pizza in Italy, I almost always order a pizza margherita – it's the standard by which I judge a pizzeria. Pizzeria Brandi is reportedly the place that first made a pizza margherita back in 1889, coining the name in honor of the queen of the same name (pizza with the ingredients on a margherita wasn't new, but calling it a margherita was). The pizzeria itself dates from even earlier, opening in 1780 under a different name, and its designation as one of the older pizza places – and the pizzeria that "invented" the margherita – means that it's often busy.
La Notizia
Via Caravaggio 53/55
For a better chance of escaping not only the "Eat Pray Love" crowd but the regular crowds in the historic center, look up. The hills surrounding the city aren't inaccessible, but they're less-visited by tourists – which means great pizza places are frequented by locals. La Notizia is even further away than most intrepid tourists will venture, as it's a trip up the funicular to the Vomero neighborhood and then beyond that to an area called Posillipo.

View Naples Pizza Places (Besides EPL One) in a larger map
There's More Where These Came From…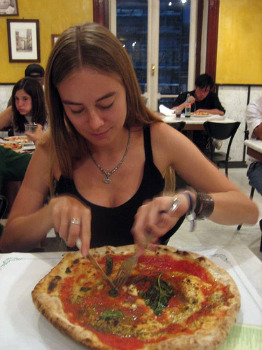 One of the beautiful things about a visit to Naples is that there's so much good food to eat. You will, I'm quite sure, have no trouble finding an excellent – perhaps even pizza-gasm worthy – pizzeria in Naples, whether you come armed with a list of addresses like the ones above or not.
The main thing you need to be on the lookout for in order to avoid bad pizza in Naples (because yes, such a thing exists) is the image of the Associazione Verace Pizza Napoletana – an organization dedciated to preserving the reputation of real Neapolitan pizza around the world. The picture you're looking for is a Pulcinella character – the white-robed court-jester sort of fellow that is Naples' symbol – holding a pizza peel, and the words "Vera Pizza Napoletana" usually appear nearby.
Are you determined to follow in Elizabeth Gilbert's footsteps? Then sure, you can make a beeline for Da Michele (Via Sersale 13) and not look elsewhere. But when Gilbert first walked into that pizzeria, she did so on the recommendation of a friend – someone who was pointing her toward a true Neapolitan pizzeria, not toward a place made famous by a book or movie. If you'd like to truly emulate Gilbert's mouth-watering experience in Naples, you'll blaze your own trail and discover a pizzeria serving up traditional Neapolitan pies that hasn't been featured in a Hollywood blockbuster.
>> For a list of pizza places in the Campania region certified by the Associazione Verace Pizza Napoletana, including all the ones in Naples, scan down this list. You'll notice, incidentally, that Da Michele isn't even on the list. And to find Naples-approved pizza elsewhere in the world, start your search here and narrow down by location.
photos, top to bottom, by: dawvon, the Di Matteo website, Allerina & Glen MacLarty, mararie