Ghiberti "Gates of Paradise" in New York and Seattle in 2008
TIME : 2016/2/25 15:42:45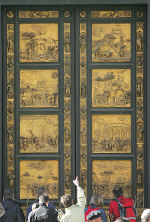 If you're one of the many people in the United States who would love to travel to Italy in 2008 but can't quite spare the cash – especially given the abysmal exchange rate between the U.S. dollar and the euro – then one option you should consider is taking in some Italian masterpieces as they travel the country.
The famous "Gates of Paradise," designed by Ghiberti in the early 15th century, are a pair of bronze doors on the Baptistery in front of Florence's Duomo, and though the originals are no longer actually on the Baptistery (they're protected indoors now in the Museo dell'Opera del Duomo), even seeing the copies is an amazing experience. Consider, then, that you could see a few or the original panels from those legendary doors up close and in person – and in the USA. Three panels from the "Gates of Paradise" are touring the United States, after which Italian officials say they will never again leave Italy. If you've never seen these incredible works of art and you don't plan to visit Florence anytime soon, this is your best chance to see them.

Ghiberti's Baptistery doors are already on tour (the show is called "The Gates of Paradise: Lorenzo Ghiberti's Renaissance Masterpiece"), having already visited Atlanta and Chicago, and here are the cities hosting shows in 2008:
New York, Metropolitan Museum of Art – through January 13, 2008
Seattle, Seattle Art Museum – January 26 through April 6, 2008
If you're anywhere near New York or Seattle, be sure to take advantage of this incredible opportunity to see the Ghiberti "Gates of Paradise" before they return to Italy forever!