An Italian Food Gift Any Italophile Would Love
TIME : 2016/2/25 15:42:54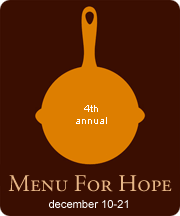 Stumped as to what to get the Italophile on your Christmas list this year? Or just looking for a little something extra to fill your own stocking? Look no further than the Ms. Adventures in Italy basket which is up for grabs at this year's Menu for Hope auction. Sara has put together a food-lovers dream collection of goodies that are famous in Italy as well as abroad, and any Italy lover – or foodie, for that matter – would be pleased as punch to get this. Trust me.
Sara's a serious foodie herself, so I can only guess that every item in this incredible basked of Italian food has been personally tested and can be vouched for by Sara herself. Here are some of the items Sara has chosen for this year's Menu for Hope basket, which come from all over the country:
Balsamic vinegar from Modena
White truffle oil from Abruzzo
Bronte pistachio cream from Sicily
Modica chocolate bars from Sicily
Extra virgin olive oil from a family friend in Puglia
Are you drooling yet? Because I am.

Sara's basket is called the "Artigianale Basket," and you can bid on it by following the instructions she's thoughtfully laid out in her post. It's a worthy cause, which is fantastic (always feels good this time of year to donate to worthy causes!), and yet you get so much for your donation that your warm fuzzies may just be increased ten-fold.
Of course, there are tons of other food-related goodies to bid on at the Menu for Hope site – any foodie on your gift list would be thrilled to receive any of them – but of course I'm partial to the one Sara's put together because of all the Italian deliciousness that it contains.
(And if this doesn't cut it, and you're still looking for gift ideas for the Italy lover in your life, Sara also featured a fantastic list of Italy-related gifts recently – from food items to music to bath products!)