A Guide to Sandy Beaches in Malta
A quick guide on finding the best spots to work on your tan around the Maltese islands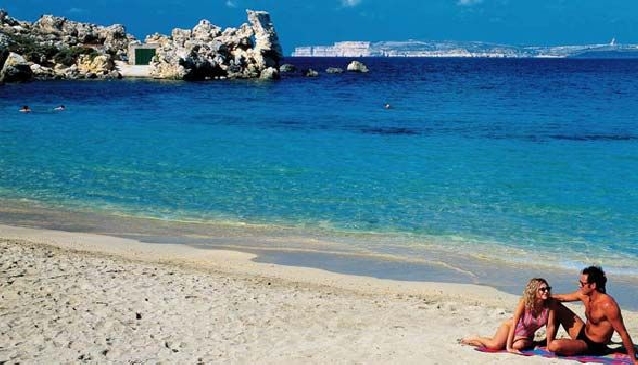 Blessed with three hundred days of sunshine per year, the lovely weather in Malta coupled with the inviting Mediterranean Sea just a stone throw away from any point on the islands; make it a favourite destination for sun, sand and sea holidaymakers.
The contained size of the Maltese Islands means that there are no long stretches of sandy beaches to boast of. However, the rugged coasts of the whole archipelago – Malta, Gozo and Comino - are dotted with pockets of charming sandy beaches surrounded by beautifully evocative scenery.
The most popular beaches in Malta are unsurprisingly the most sizeable and accessible ones. The first names that come to mind to any local are Ghadira, Armier and Golden Bay. These lie on either side of the northern part of the island and are full of families, teenagers, couples and tourists throughout the week. They have plentiful restaurants, cafes and kiosks with water sports available on site. Another is St. George's Bay which is right on the doorstep of Paceville, Malta's nightlife mecca and a treasure cove for visiting English language students.
However, if you are really looking for something special...not so much run of the mill....then Malta has some great options. A few of our favourites include Paradise Bay, Ghajn Tuffieha and Mgiebah Bay in Malta; Ramla Bay, San Blas and Hondoq ir-Rummien in Gozo; and, last but not least, the incredible clear waters of the Blue Lagoon in Comino.
The beaches you visit will depend on your mode of transport, as a few of them can not be reached by public transport. Also, the beaches that have a relaxing sense of remoteness and stunning scenery, are those that are not so ideal for young children or adults with impaired mobility. They usually require tackling a long flight of cragy steps or a walk along a long path.
A final note to bear in mind, is not to underestimate the power of the Maltese sun or the sea! Generous amounts of sun cream are always recommended and if the sea is looking too rough, it is advisable not to swim as the underwater currents can be very dangerous in the deeper waters.