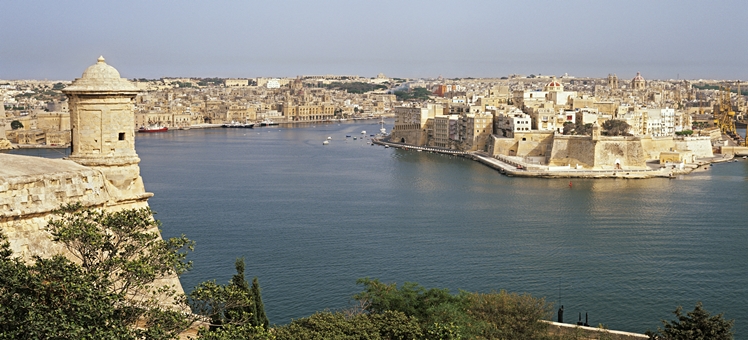 Malta's most popular areas are mainly concentrated on the northern coast of Malta but that is not to say that the rest of this trilogy is to be overlooked. Malta tends to be a favourite among vacationers looking for beaches while those in search of relaxation and unspoilt nature flock more towards the wonderful countryside and laid-back vibe on Gozo and Comino. However, there is plenty of sightseeing and buzzing life in the capital city and in St. Julian's to attract every kind of tourist.
Valletta
Valletta is the capital city of Malta and stands on a small peninsula on the main island's east coast. The city is peppered with historical sites, which saw Valletta earn UNESCO World Heritage Status. It is a small city and therefore it is easy to explore on foot, in fact, as the roads are narrow and steep, this is perhaps the best way to tour the capital. Valletta is a pleasant place to stay, with a view of the sea from many points in the city. There are only a few 2 or 3 star hotels within the city walls and some self-catering options, but outside the walls you can find a couple of 5 star options. For those wanting more choice another advantage to Valletta's location is its proximity to the more popular northern coast, with St. Julian's just to the north and Golden Bay a few miles west.
St. Julian's
As the home of the most vibrant sections of seafront, the best restaurants and bars, and the main stretch of accommodation, St. Julian's is a hotspot for tourists. St. Julian's is also home to the photogenic Spinola Bay; where many tourists and locals alike enjoy taking walks through and take in the sea-view and elegant, clean streets. The biggest attraction of this area, however, is its nightlife. St. Julian's comes alive at night as the fun-seeking throngs begin to gather, particularly at Paceville, which is the heart of St. Julian's and boasts great restaurants and bars. St. Julian's is an ideal place to stay for leisure.
North Malta
The north of Malta is a haven for those in search of sun, sand and sea as well as rugged countryside and rural retreats. There are a range of places you could base yourself from St Paul's Bay to the neighboring Bugibba and Qawra all dotted along the coast. These are popular places for package holiday fans as these resorts are well equipped for the foreign holiday maker with a wide range of hotels to choose from. Melieha offers up another North Maltese gem, with hotels available in the picturesque town centre or self-catering options off the beaten path. Scooping the title as 'European Destination of Excellence' in the past, you can expect amazing views, top beaches, restaurants, activities, good transport links and plenty of Maltese charm.
Gozo
Gozo is quite significantly smaller than Malta but just as welcoming. This island is largely rural and, therefore, sells itself much more easily to tourists looking for a relaxing vacation. Very quiet, Gozo is an ideal retreat from the buzzing hustle and bustle of its larger sibling. Ramla Bay is arguably the best beach in Malta and finds itself on the northern shore of Gozo, where bright sands attract tourists and locals from all over Malta. Gozo is not overrun by hotels and it is subsequently not always easy to find a place to stay here, although, this does add to the sense of seclusion and tranquillity; making this a top choice for relaxing lodging. Most people who stay here opt for self-catering with many converted farmhouses available.
Comino
Comino is the smallest of the islands of Malta and shares the same relaxing traits as Gozo in that it is mostly rural and pleasantly quiet. The Blue Lagoon, however, is one of the major attractions of Comino and is a popular spot with holiday-makers. Facilities on Comino are limited. There is one chapel, one house and one hotel on the island. So, if you do stay here it is going to be a peaceful one.