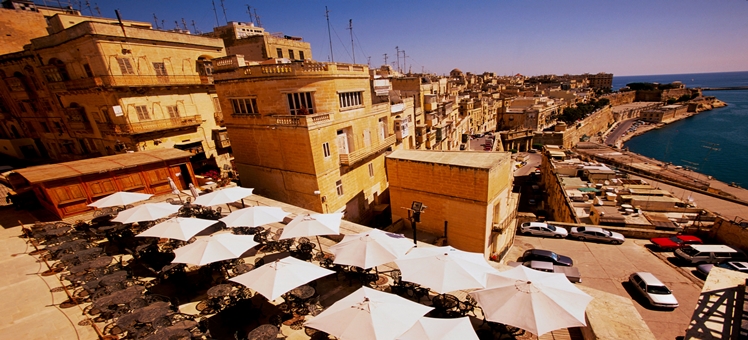 In the middle of the Mediterranean Sea and nearby to Italy, Malta is in a fortunate position when it comes to cuisine. With the abundance of seafood fresh from the warm sea waters, Malta is an island that specialises in seafood. It also helps to have some Italian influence. The restaurants are varied, and while the most popular are situated in St. Julian's in the north-east, there are excellent spots dotted all over the island.
St. Julian's and Sliema
Restaurants in St. Julian's and Sliema are among the most diverse in Malta. Most of these restaurants cater for the many tourists that flock to the streets with Mediterranean, Asian and Oriental cuisines just a few you'll find here. St Julians is home to The Blue Elephant, one of Malta's top dining experiences – and the best Thai food restaurant on the island. As well as producing mouth-watering dishes the rainforest décor is tasteful and inviting. If Japanese cuisine is what you're after then Zen in St Julians is another explosion of taste and surrounds. The Villa, on Main Street, also in St Julians focuses more on Mediterranean cuisine, particularly Italian.
•
The Blue Elephant
, Hilton Mlata, Portomaso, St Julians.
Fenkata
It is impossible to sample Maltese cuisine without trying fenkata, which is rabbit marinated overnight in wine and bay leaves. These meals normally kick off with spaghetti in rabbit sauce followed by rabbit meat stewed or fried, usually with gravy. The only places to do this meal justice are the specialist fenkata restaurants. In Mgarr in the northwest, Ta L'Ingliz is one of the most popular restaurants for fenkata; they pride themselves on quality meals by preparing their dishes from scratch. This does demand some patience but it's certainly worth the wait.
•
Ta' L-Ingliz
, 59 Triq Il-Kbira, Mgarr.
Seafood
As an island on the Mediterranean, it comes as no surprise that Malta is home to many seafood experts. Malta has several seafood restaurants by the sea but one of the best is Giannini in Valletta City. This elegantly laid out restaurant offers their own blend of Mediterranean fare with fresh fish a regular on the menu as well as meat options such as roasted lamb, rabbit and pan seared duck breast. Over in St Julians, you'll find Barracuda Restaurant. Another seafood expert, Barracuda is one of the oldest fine dining restaurants on the island and serves all kinds of dishes from sea urchins to octopus and is a particularly good place to eat outside, overlooking the sea.
•
Giannini Restaurant
, 23, Windmill Street, Valletta City.
Maltese
Maltese cuisine is based on food that would typically be available to farmers or fishermen – vegetables, fish, and bread – with some Italian and slight Greek influence thrown in. One of their signature dishes is soppa ta' l-armla, which translates as widow's soup and is a mix of in-season vegetables in a thick tomato stock. Maltese sausage is a local delicacy and can be eaten roasted or raw, which goes well with Maltese bread; served drenched in olive oil and with a layer of tomato paste and olives. Check out these meals at Ta' Marija, one of the leading Maltese restaurants in Mosta, central Malta. Razzatt l-Antik in Qormi is also a top place to find local fare on the island. The restaurant staff even wear traditional costumes.
•
Ta' Marija
, Constitution Street, Mosta.