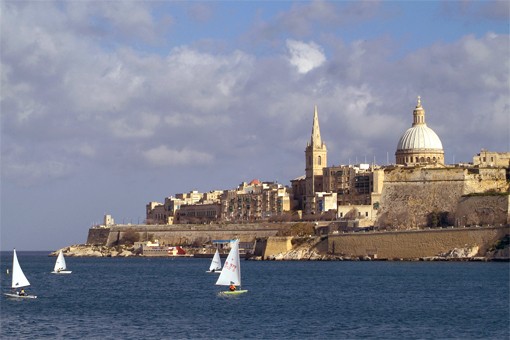 A Malta holiday brings to life old tales of the Knights Hospitaller and ancient temples. But from your Malta hotel explore an island very much in the present with beaches, bays and lagoons, coastal fortresses and hilltop towns mixed Mediterranean cuisine, and fine filigree jewellery.
Get your bearings
A tiny dot on the map between Italy and North Africa, Malta's craggy coastline is washed by azure waters that flow into capital Valletta's natural harbour. The historic Three Cities of Vittoriosa, Senglea and Cospicua guard the harbour to the south, with fun-loving Sliema and St Julians to the north. The ochre buildings turn inland towards a limestone landscape of pine trees, villages and hilltop Mdina. To the north-west lie Golden Bay and Melieha Bay's sandy beaches, and ferries to car-free, diving island Comino and laidback Gozo.


Ancient history
After settling in to your Malta hotel book tickets for the Hal Saflieni Hypogeum ancient underground necropolis, near Valletta. You'll find megalithic temples across Malta, including the Ġgantija temples of Gozo. Audiovisual shows tell of the Knights of St John who built baroque Valletta and fought at Vittoriosa's Fort St Angelo during the Great Siege of Malta in 1565. At Vittoriosa's Maritime Museum delve into the island's seafaring past and Roman and British influences.


Maltese meals
Malta's Sicilian and British-influenced cuisine combines pasta and meat with local produce. Try savoury pastizzi flaky pastry snacks and ftira bread stuffed with olives and capers, and dinners of braġioli beef olives or lampuki fish pie. The fishing village of Marsaxlokk is a Sunday lunch favourite for fresh fish, and traditional Maltese restaurants serve herb-marinated fenek rabbit, accompanied by local wines from the Camilleri and Emmanuel Delicata wineries.


Outdoor adventure
Wrecks at HMS Maori in Valletta, barracudas around Gozo's Fungus Rock and snorkelling at Comino's Blue Lagoon – there's no shortage of activities on the water. St Paul's Bay offers watersports and boat cruises, while sunbathers prefer Golden Bay's sands. Enjoy safe swimming at Melieħa Bay and fun at Sweethaven Village, the 1980 Popeye film set where kids can meet cartoon characters. Further south, boat trips explore the sparkling Blue Grotto sea cave, near Zurrieq, and inland Malta and Gozo's quiet country lanes are just the spot for gentle cycling.
Cultural displays
At Valletta's Museum of Fine Arts, Italian baroque rubs shoulders with modern art. Malta's most prized piece is Caravaggio's Beheading of John the Baptist at St John's Co-Cathedral. The Folklore Museum in Għarb reveals rural life on Gozo, and culture comes to life on the lively narrow streets of Vittoriosa and in Mdina where the age-old Mnarja festival is celebrated with a traditional feast for St Peter and St Paul.


Arts and crafts
For an insight into local crafts visit the Ta'Qali Craft Village in a former Second World War airfield near Mdina, where shops sell delicate filigree jewellery and glassblowers create ornaments in vibrant hues. You'll find fine silver and gold Maltese crosses in Valletta, and gift shops throughout Malta selling the protective Eye of Osiris, bizilla lace doilies, carved limestone candle holders, and hand-crafted ganutell flowers made from wire and embroidery.