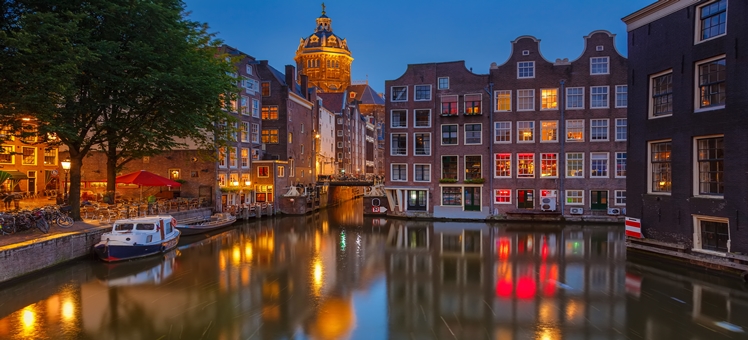 Amsterdam offers a range of hostels, apartments and five-star hotels to cater to the diversity of age ranges and budgets of people who visit the city. From romantic city breaks to student weekends away, Amsterdam provides excitement for everyone with a place to sleep at the end of the day. Whether you're looking to stay amidst the buzz of the city center, or further out for a quiet night, there are enough options to suit any budget.
Central Amsterdam
Where everything is happening, a great value for money hotel would be A-Train, just across from the train station. With friendly staff and a reasonable breakfast, this is exactly what you need if you're traveling on a budget and want to be in the center of the city. For a different scene, the quietly located Jewel Apartments offer a home away from home. Along the Singel Canal and only minutes from Dam Square, you can enjoy the city's best attractions before coming back to a relaxing setting for the night. Slightly more expensive, yet boasting excellent ratings is the Crowne Plaza, surrounded by an array of restaurants and shops.
Jordaan Area
In this romantic district you'll find some of Amsterdam's best accommodation, one of which being the Petit Prince apartments. Receiving unfaultable reviews from their guests, they offer a shuttle service, children's activities and breakfast in the room. Also available is Hotel Nadia, a comfortable, budget hotel with historic surroundings that provides a private shower, toilet, Wi-Fi and safety deposit box. If they don't appeal to you, consider the stylish La Festa B&B or quirky BackStage Hotel.
Red Light District
Home to the city's more expensive hotels like De L'Europe and NH Grand Hotel Krasnapolsky, you can chose to be thoroughly spoilt in this area, but there are some more reasonable options as well. Doria Hotel and the Rembrandt Classic Hotel each provide friendly service in a convenient location to the city's main events. The Heart of Amsterdam hostel's breakfast will provide you with a great start to the day and a movie-themed, shared room for those looking for adventure and fun.
Vondelpark
One of Amsterdam's most popular parks, Vondelpark attracts locals and tourists alike, packed with cafés, an open-air theatre and a beautiful display of over 70 types of roses. The Owl Hotel provides decent size rooms and an excellent breakfast, and the staff are more than happy to make your stay as pleasant as possible. The Conscious Hotel is good value for money, in a perfect location for all of the museums and has won awards for being eco-friendly. For a slightly cheaper option, Hotel Abba offers authentic Dutch hospitality with an international touch, just five minutes from the buzzing night life.