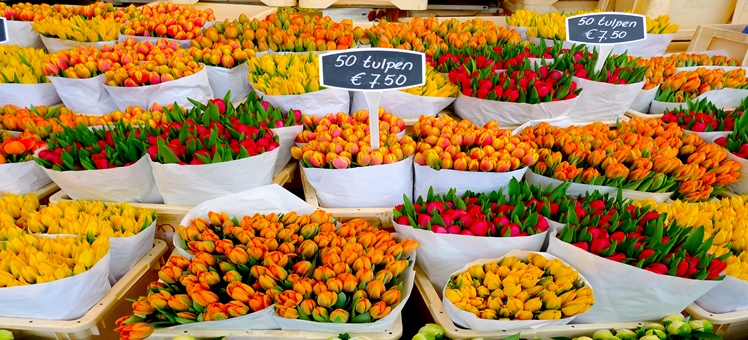 Amsterdam has a fantastic array of shopping malls, markets and independent shops that will keep you busy for hours, selling everything from antiques to Gucci, souvenirs to hemp; you won't know where to start. With shopping streets such as the Negen Straatjes or the Kalvertoren Mall, you can chose from fashion brands or second hand items with plenty of opportunities to stop and catch your breath in one of the quality cafes.
Flea Markets
One of the most popular ways to discover what Amsterdam has to offer is by visiting a flea market. From Waterlooplein in the Jewish Quarter to the Albert Cuyp in De Pijp, each market is a goldmine, offering visitors a range of rare books, antiques and vintage clothing. Many also sell souvenirs, flowers and textiles and the Albert Cuyp boasts items from Turkey and Morrocco, imported by residents and traders from those countries. The world's only floating flower market can be found on the Singel Canal which boasts a beautiful selection of flowers, in an area full of lovely cafés and a mix of locals and tourists. Explore IJ Hallen and Haarlemerstraat for a selection of absolutely everything, including old junk that nobody wants, they're excellent places to visit.
Antiques
Most areas in Amsterdam sell antiques, whether you're at a market or find an individual shop down a little alley you'll be spoilt for choice. Whilst the Negen Straatjes and Utrechtsestraat are quirky places to shop, one of the most popular places for antiques is the Antiques Center. Located in the Jordaan area, which was once a district for the poor, it hosts over 72 stalls and cases full of art, paintings, silverware and glass of all styles. Spiegelkwartier is a must for any shopping fanatic and with of 80 years of history you'll discover art pieces, antiques and a collection of vintage items.
Shopping malls
Curious as to what Amsterdam's malls have to offer? Your choices range from Kalvertoren and Magna Plaza in central Amsterdam, to De Bijenkorf in Dam Square. Similar to what you would find at home, these malls comprise of named brands such as Timberland, H&M, Nike, and local brands alongside beauty and music stores. However, De Bijenkorf offers a collection of high-end brands and is an institution of fashion in Holland, with Amsterdam as its flagship store.
Individual shops
With the diversity of residents in Amsterdam, locals have taken a shine to a variety of styles in fashion and general household items. Stores have been set up with owners from Japan, Morrocco and Turkey, providing residents and tourists with a cultured twist to their shopping. 'T Japanse Winkeltje offers customers a taste of all things Japanese, but keep your eyes open down various lanes for other cultural gems. Vega Life takes being a vegetarian to a new level in this little store, located in the west canal belt, as all of their products are vegan, organic or Fair Trade. The Heineken Brand store is great if you like the beer, but also for souvenirs and Dam Square offers a typical tourist souvenir hub amongst distinguished buildings. For those of you curious about the soft drugs of Amsterdam, Sensi Seeds is an interesting place to see as founder Ben Dronkers has dedicated his time to finding and preserving some of the best cannabis strains.
Shopping tips
Take note of these helpful tips to ensure your holiday isn't ruined. Don't take pictures in the Red Light District as it is disrespectful to both workers and visitors in the area, but keep your camera safe from pick-pockets. Ignore people who try to sell you something in the streets, it will most likely be drugs that won't work or stolen bicycles, and there is a huge penalty for buying either. If you're shopping at a market, look around and compare prices at other stalls before buying something you really like, be prepared to bargain but also know when to walk away if the stall vendors become pushy or rude. The best things to buy in Amsterdam that reflect the culture would be wooden clogs, tulips and something from one of the famous sex shops.