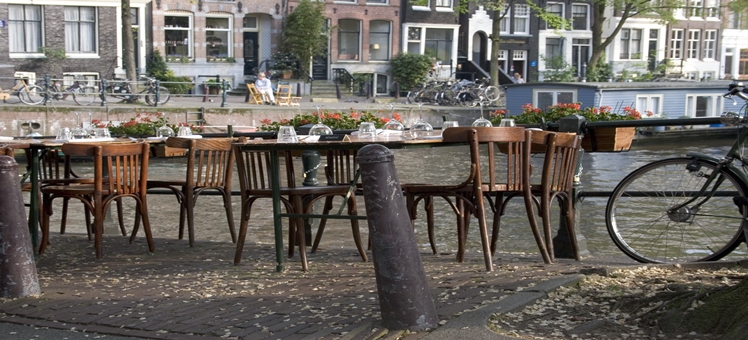 Amsterdam's cultural diversity shines through in the vast amount of restaurants that serve cuisines from Thai to tapas, local Dutch to Arabian. Whether you're looking for an award-winning menu or a local café, there's no end to what you will find in the city as it offers something for a huge variety of tastes. Just remember, coffee shops in Amsterdam will offer something a little different than the ones back home so be careful what you order!
Cafés
There's no bigger name in cafés than the Hard Rock café chain, with yet another in the center of Amsterdam that offers hearty meals and friendly service throughout the day. However, if you're looking for something more low-key then Singel 404 is open from 10.30 and offers beautiful canal views and a large selection of sandwiches. For traditional Dutch food, just behind Waterlooplein Metro is Café Greetje, serving delicious home-cooked Dutch meals and providing excellent service. However, don't mistake a coffee shop for a café, as these are alcohol-free establishments that sell soft drugs, allowing people to consume them in a relaxed and controlled area.
•
Hard Rock Café
, Max Euweplein 57-61, Amsterdam 1017 MA.
Bars
Maybe you're missing a big sports game whilst you're away or just want some home comfort food? Coco's Outback will satisfy your needs. Serving 15 different beers from Australia, New Zealand and South Africa and providing pool tables, dart boards and 17 TVs to watch the latest sport on, this bar is part of the bustling nightlife of Rembrandtsplein. If you prefer drinking wine to beer, Bubbles & Wines Bar offers you over 50 wines by the glass and gourmet snacks, making it the perfect place for a pre-dinner drink, or for a relaxing evening out.
•
Coco's Outback
, 8-12 Thorbeckeplein.
Restaurants
For a mixture of Western style and far-eastern flavors, Momo serves international cuisine in a sophisticated setting for both lunch and dinners. Perfect for enjoying a few drinks with friends, order one of their innovative cocktails and relax amidst the Asian décor. Michelin star restaurant La Rive serves of mix of French-Mediterranean flavors and can be accompanied by superb wines that should not be missed if you're looking for a classy dinner. If your taste buds are after something a little different, Norling serves mouth-watering Tibetan food all day and at very reasonable prices.
•
Momo Restaurant
, Hobbemastraat 1, Amsterdam 1071 XZ.
Markets and street stalls
Holland has numerous culinary delights of its own, without needing to rely on other cultures, and the best place to find them are at the markets or on the street stalls. The Boerenmarkt in the Jordaan area is a local market, easily overlooked by tourists and is filled with the very best Dutch cheeses. Don't be afraid to ask for a taster before buying, and if you can't remember your Dutch words, everyone speaks English. Pancakes are a national favorite and come in two different forms, both different from the American style, called Pannekoeken (enormous pancakes) or Poffertjes (little pancakes). These pancakes are eaten with almost anything you fancy, from blueberries to bacon, strawberries to cream cheese, so don't be afraid to add whatever you like.