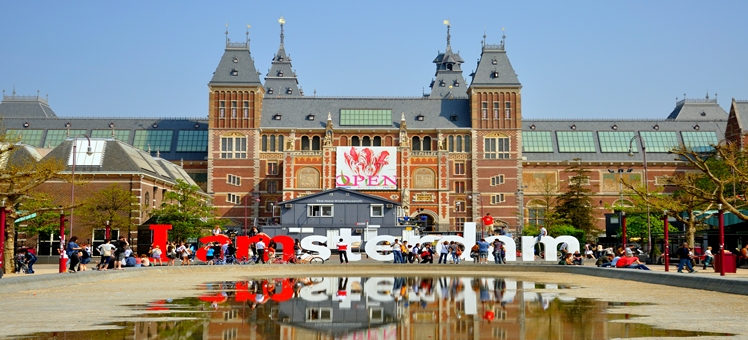 Amsterdam is continuously changing and new attractions are emerging all of the time, which means you'll never be stuck for things to do in the city. In a weekend you will be able to take guided tours, visit beautiful churches and even try glow in the dark mini golf. Pick up an I Amsterdam City Card and you'll save money on transport and some of the best attractions.
The Red Light District
Sex, drugs and rock 'n' roll – if that's what you're looking for that's exactly what you'll find in Amsterdam's famous Red Light District, locally known as De Wallen. As one of the oldest neighborhoods in the city, it holds a great deal of history and the walls now separate the erotic, religious, residential and the commercial. In this area you will be able to discover the Erotic Museum and the sex shops with their merchandise on display, along with sex shows of all natures. Whilst in the area, be aware that cameras are not usually welcome, particularly near the red hued windows. The Red Light District is also still a residential area where people are going about their daily lives.
Museums
Amsterdam boasts one of the highest densities of museums in the world, with over 40 to discover and dedicated to a range of topics from sex to handbags. Indeed, whatever you're interested in you'll find a museum. The Van Gogh Museum holds over 800 pieces of art work from the Dutch painter, making it the world's largest collection and definitely worth visiting, but don't miss the Rijksmseum as it holds national treasures from the Middles Ages to the 20th century. The Anne Frank house is located in the center and was the hiding place of Anne Frank during World War II, where she wrote her famous diary and her family's lives are retold through exhibitions.
Bridges, boats and bicycles
Amsterdam is famous for being a cycling city and everyone has a bike, even the policemen. It's the main mode of transport for the Dutch, and definitely the best way to discover the city. There are rental shops all over Amsterdam and cycles can be hired for as little as €12 per day from the Yellow Bike Rental Company. Amsterdam's Canal Ring is a unique landscape which is made up of over 165 canals, and became a UNESCO World Heritage Site in 1999. For this reason alone you should take a tour of the city by boat, whether you're having a dinner cruise or taking advantage of the Rijksmuseum art tour there are a variety of tours to excite all ages. With the amount of canals in Amsterdam, there are so many architectural bridges which can easily be explored on foot or by hiring a bicycle, and if you head down to the corner of Reguliersgracht and Herengracht canal, you can view 15 of the bridges all at once.
Religious architecture
After a manic day of sight-seeing, why not unwind in one of the exquisite places of worship that Amsterdam has to offer? From the Buddhist Temple to De Oude Kerk in the Red Light District to the Portuguese Synagogue in the Jewish Quarter, these buildings display a range of religious beliefs and beautiful architecture that is scattered around the city. In a charming canal house in the Red Light District lies the Our Lord in the Attic Chapel, which was used by the Roman Catholics when a man converted the top floor of his house as Catholics were not allowed to worship in public.
Family activities
As a family-friendly city, most of Amsterdam's attractions have enough to offer children of all ages. The Artis Zoo is a must, and since it opened in 1838 it now homes over 900 species of animals and also has an aquarium and numerous historical buildings. For the animal lovers, De Poezenboot is a floating boat that serves as a cat shelter, making it a truly unique and heart-warming attraction for all ages. The NEMO Science Center will keep you and the children entertained for hours as they learn about extra-terrestrial life, how to make clean water and how to build a dam.