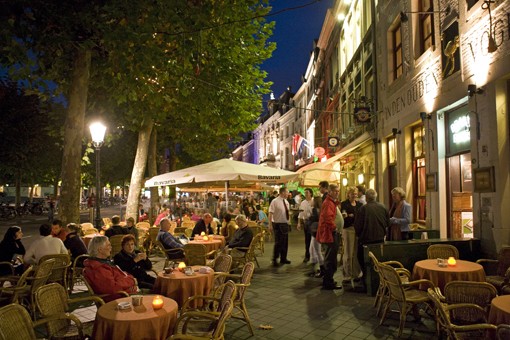 Though it is better known for its treaty than its eateries, Maastricht is chock-a-block with tempting culinary hotspots. Book a Maastricht hotel to treat your taste buds to savour marinated rabbit, baked goat's cheese, robust meat stews and sweet fruit flans.
Dinner with the stars
Maastricht's celebrated gourmet scene glitters with eight Michelin stars at Beluga, Aux Coins des Bons Enfants, Château Neercanne, Toine Hermsen and Tout à Fait. Splurge at Beluga for a dish of turbot with white truffles and caviar.

Beluga: Plein 1992 12, 6221 JP


Cosy shoestring gourmet
Inexpensive gastronomy is Maastricht's Les Tables du Quartier Latin's signature with 11 eateries set in the city's charming medieval core. Home-cooked food draws in a mix of students, shoppers and bureaucrats. Buttered snails at Petit Bonheur are divine.


"Chic" cuisine
In the local dialect, Café Sjiek (pronounced "chic") means "great" – a term that reflects this bustling food joint's simple, regional fare of roast game and meaty stews. An adjoining shop stocks excellent local olive oil from the barrel – ask for a ladle to taste.

Café Sjiek: Sint Pieterstraat 13, Maastricht


Eat, drink and be merry
Celebrate fine wining and dining with gusto during Preuvenemint: a mouth-watering four-day food festival held every August. Savour delectable cuisine with a Gallic twist in dozens of participating restaurants – some with Michelin stars.


A beer for each day of the year
Over 400 brown cafés (pubs) stock hundreds of Dutch and Belgium beers. Cosy In Den Ouden Vogelstruys wins on charm as Maastricht's oldest watering hole. It has served customers since 1730 – to drink like a local order a half ('haaf'") with a dash of "dark beer".

Vrijthof 15, 6211 LD


Dine like royalty
Castles, mansions, churches and underground chambers have all been transformed into restaurants. Holland's only terraced castle, Château Neercanne, guarantees a gourmet feast – at a price. Splurge at the à la carte restaurant or enjoy an aperitif in a labyrinth of marl caverns.

Cannerweg 800, 6213 ND


Raise a glass to the River Maas
Sip a glass of crisp white Riesling (glühwein in winter) on the picturesque River Maas, taking in Mount St Pieter, rugged limestone caves and the Belgian border.

Port Bassin
Super for soup
For earthenware tureens of hearty Maastricht soup, head to EetCafe Ceramique, a homely, convivial café where chefs prepare dozens of old-fashioned meat, game and vegetable broths. Menus are presented in old books straight from the antiquarian bookshop – a quirky touch.

Rechtstraat 78 6221 EL


Souvenir foodie essentials
Chocoholics should sniff out Olivier Bonbons' chichi chocolate store for its pralines and cocoa-dusted truffles. Adriaan de Smaakmaker sells gourmet mustards and chutneys while Le Salonard's eye-popping array of cheeses are a foodie's delight.

St Pieterstraat 36, 6211 JN


Vineyard and wineries
Maastricht's most famous vineyard sits in the courtyard of G Thiessen, an 18th-century wine boutique. Delve into a maze of dusty cellars crammed with barrels and bottles.

Grote Gracht 18, 6211 SW