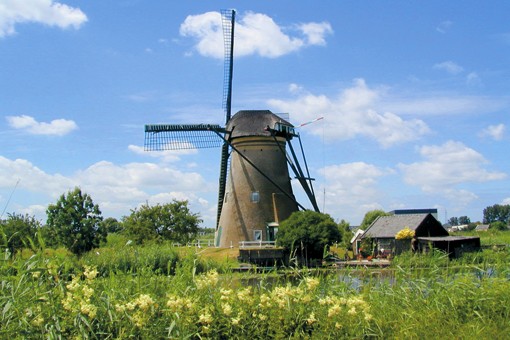 Holidays in the Netherlands are always surprising. This north-western European nation packs it in with diverse cities, world-class art and picturesque towns. Its windmill-dotted landscapes are cycle friendly, while windswept coastlines and colorful flowers make the great outdoors a real treat. Book your Netherlands hotel to see the country for yourself.
Get your bearings
Bordering Germany to the east and Belgium to the south, the low-lying Netherlands is a blend of scenic backdrops, lively cities and 300km of windswept North Sea coastline along the north and west. Lakes and rivers criss-cross the mainly flat landscape with bustling capital Amsterdam at the country's cultural and commercial heart. To the west is pretty Haarlem, seat of government The Hague and the country's famous bulb fields. The forest of Arnhem breaks up the central stretch with Rotterdam and Eindhoven in the south.


Cultural gems
The Netherlands' 17th-century golden age comes alive in the arts hub of its capital Amsterdam. See world-class art in the Museum Quarter or visit the Amsterdams Historisch Museum for a glimpse into the country's past. In The Hague, Vermeer masterpieces take pride of place in Mauritshuis museum while the port city Rotterdam is home to the Boijmans, the Netherlands' only museum with paintings by Dutch painter Bosch. Visit 2,000-year-old Utrecht's Museum Quarter with its centuries-old almshouses and Dom Tower. See the Netherlands' 18th-century windmills lining the canals in the UNESCO town Kinderdijk near Rotterdam.


Out and about
A mainly flat landscape makes cycling holidays in the Netherlands a popular option. Cycle-friendly routes in Amsterdam and skating tours around Vondelpark are part of local life. Haarlem and Sassenheim (near Leiden) in southern Netherlands provides views of vibrantly colored bulb fields while the UNESCO Wadden Sea is home to several islands off the north coast, a haven for walkers and beach lovers. There's hilly country too in South Limburg, southern Netherlands, for more challenging strolls, and sailing, boat cruises and canoeing are popular in the Netherlands' waterways. There are also over 150 golf courses and eastern Holland's Achterhoek region has numerous in-line skating routes.
Regional dining
Eating and drinking are part of any Netherlands holiday. Cuisine is eclectic with Dutch cheese like edam and gouda making frequent appearances. Alkmaar's Friday cheese market in northern Holland is a cheese lover's paradise. Dutch cuisine is relatively unified but regional specialities include Groningen cake from in the northern Groningen region and Frisian rye bread with soused herring in coastal Friesland. In coastal Zeeland, try filled lobster and mussel soup. Amsterdam is particularly renowned for its ethnic restaurants, particularly Asian and Indonesian.


Retail therapy
Innovative designers, diamond dealers and characterful antiques are part of the shopping experience in the Netherlands. The capital Amsterdam is a shopper's paradise with quirky shops in the Jordaan district and Dutch and global fashions in the central area. Antwerp's world-renowned diamonds are big business and it's home to the 1,000 square metre DiamondLand showroom. Ask your Netherlands hotel about reputable dealers. Exclusive fashion, art and antique shops line Noordeinde in The Hague. For gifts, take home Dutch cheeses and syrupy stroopwafel waffle biscuits.