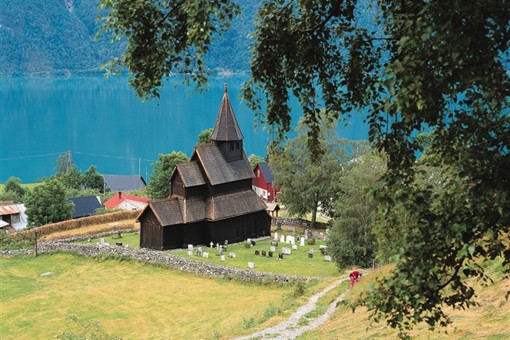 A holiday in Norway reveals winsome medieval churches, ravishing landscapes and compelling museums that show off Mother Nature's Nordic side. Winter or summer, Norway's great outdoors is a treasure trove of activities.
Get your bearings
Stretching into the far reaches of the Arctic, Norway is an elongated mountainous expanse of spectacular landscapes. The capital, Oslo, sits in the south-east on a slender fjord that empties into the Baltic Sea. South of here, the sandy coastline curves around to former fishing towns like Kristiansand, Mandal and Stavanger. They are perfect spots for filling up on great seafood and working on your tan. The country's second largest city, Bergen, straddles the Hanseatic islands in the North Sea. Further up the coast is the medieval fishing community of Trondheim, and way up in the north far above the Arctic Circle is Tromsø, a bustling centre of Arctic and Sámi culture.


Summer holidays
Few people would associate the word 'Scandinavia' with warm sunshine but it is in the summer months that Norway comes alive. The long days in the land of the midnight sun mean you can hike across lengthy valleys and mountain plateaus well into the wee hours of the morning – with no need for a torch. Swim off Norway's warm and silky southern beaches, watch whales in central Andenes or cycle anywhere in the country along a series of well-signed paths.


Winter wonderland
Norway is graced with thousands of kilometres of trails for downhill, telemark and cross-country skiing. This is the land where the sport was invented. After exploring the backwoods, head north to Lapland, where locals spend the days snowmobiling, ice climbing, snowshoeing and on husky safaris. Northern winters are the best time to observe the bright, fiery tapestries of the aurora borealis, or northern lights.
Culture
Oslo is best explored through its museums. The Viking Ships Museum has several intact burial vessels and the National Gallery holds the country's largest collection of Scandinavian and international art. Among a fine collection of work by painter Edvard Munch at the Munch Museum is his world-famous The Scream. Bergen's merchant history is on display at the Hanseatic Museum and the Bergen Museum's ethnography and natural history collection includes whale skeletons, Viking Age objects and religious art. Tromsø's Polar Museum illustrates the city's past as a point of departure for Arctic expeditions.


Unique churches
Norway's landscape is peppered with two dozen angular wooden structures known as stavkirker ('stave churches') - Romanesque medieval structures of posts, beams, planks and heavily sloping roofs built by the Vikings in the image of sailing ships. The largest and most ornate is Borgund Church, built at the end of the 12th century. The Urnes Church, on the Lyster Fjord, is the country's oldest, dating to 1050. Lom Church, in upper Gudbrandsdalen, has a beehive-like roof and sits on a promontory overlooking a fjord.