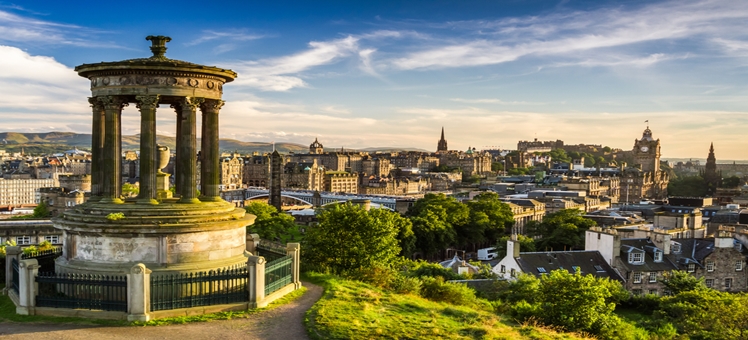 There's a reason why Edinburgh is one of the most visited cities in the UK. In fact, there are several. Whether you want history, intrigue, festivals or good food, this Scottish city delivers it all in abundance. It's also one of the most striking settings in Europe, with the dramatic castle, twisting cobbled streets and looming 300 year old tenements. Into this vibrant mix Edinburgh adds the world-famous Fringe festival every summer, and the notorious Hogmanay to chase in the New Year. Come and be amazed.
History and culture
It might not be shouted about, but the Old Town and New Town of Edinburgh form a UNESCO World Heritage Site. This alone certifies the city's great cultural and historical significance, if it isn't clear enough in the craggy ramparts of Edinburgh Castle, the colorful array of traditional kiltmakers, or the stalls selling the savory Scottish specialty of haggis. The capital brings the massive culture of Scotland together in one city, where it is reminiscent in the twisting cobblestone streets, the warm rolling accent and attractions such as the Scotch Whisky Experience. For fans of art and history, Edinburgh has a thriving array of museums and galleries which are often free, host fun events and feature a rolling program of exciting exhibitions.
Cosmopolitan city
In contrast with the corkscrew cobbled streets and looming caricature of the castle, Edinburgh has actually become a rather sophisticated city. Or at least in parts. A couple of miles east of the center, in Leith, you'll find a town transformed by a vibrant arts and culture scene, with gourmet chefs opening restaurants all over the place. The city center has also seen a leap into sophistication, with an explosion of big brands and the opening of classy Multrees Walk. This small street just off St Andrew Square is a pedestrianized haven of luxury, featuring a collection of designer outlets, a spa and Valvona & Crolla; Scotland's oldest delicatessen.
Seven hills
Edinburgh is famously built on seven hills, all giving visitors numerous opportunities to view the city from a height. Arthur's Seat is the tallest and perhaps best known; climb this grassy outcrop for an unrivalled city vista and a relaxing picnic in the summer. Calton Hill is another great vantage point, and the home of important buildings such as the Scottish Government's St Andrew's House and the castle-like Holyrood Palace. At the very top of Carlton Hill you'll find several Edinburgh icons – the Greek-styled Dugald Stewart Monument, the columned National Monument of Scotland and the telescope-like Nelson Monument.
Festivals and celebrations
Edinburgh hosts two world-famous events. The globe's biggest art festival The Fringe arrives every August, and for 25 rollicking days the Scottish capital is alive with costumed street performers, dramatic Shakespeare productions and a blend of contemporary music and dance. Edinburgh's other big celebration is Hogmanay – the Scotch version of New Year – a traditional event which was transformed in 1993 into a city extravaganza, now attracting 250,000 to one huge street party from the 29th December. Revelers delight in a flaming torch parade, street arts carnival and a concert stage on every corner.