Tate Britain art gallery: Art reincarnated
TIME : 2016/2/27 11:00:49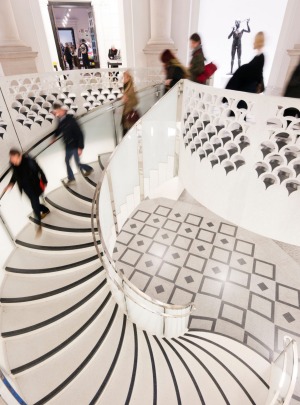 London's Tate Britain shines from its $86 million facelift, right down to the cafe's teaspoons and fridge magnets, discovers Belinda Jackson.
Once a stultifying swamp, then a prison for Australians' ancestors, Millbank, on London's Thames River, is home to London's latest glorious art reincarnation, the Tate Britain art gallery. The home of the Turner Prize, which turns 21 this year, the Tate Britain opened in 1897 as the National Gallery of British Art. The Tate Modern broke away from its fusty parent in 2000 to become the world's most popular museum, leaving the Tate Britain to languish, unloved, in its ultra-cool cousin's shadow. Now, a $86 million renovation has the gallery sparkling. 
Instead of slinking round the side entrance like it's your dirty secret, the main Thames-facing entrance is once again open, so I strut boldly up the stairs and into the most beautiful atrium, crowned by a dramatic glass dome that has been hidden from view since the 1920s. The dome allows sunlight to pour into the elegant foyer and down a new spiral staircase. Visitors simply stop and stare at the architectural beauty, camera phones working hard.