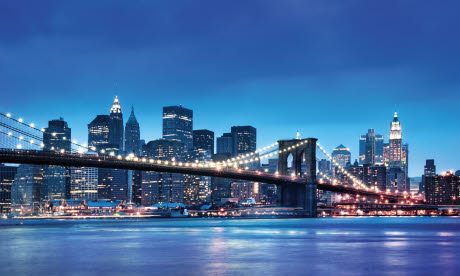 Brooklyn's top 8 highlights
The most populous of New York City's five boroughs and often the least-visited, Brooklyn has a whole host of sites to seek out. Here's how to get off the beaten track
1. An amusement for all ages
Named after an iconic piece of Coney Island's history, Luna Park (opening times vary; admission fee based on ride credits) continues to represent the largest investment of amusement ventures for its area. Luna Park provides both New Yorkers and travellers the opportunity to experience a variety of family-friendly events and thrill rides including the historic Cyclone Rollercoaster, "Air Race," the "Soarin' Eagle," "Coney Island Raceway," and "Boardwalk Flight".
In close proximity to the beach, boardwalk and other top attractions, Luna Park is an admirable destination for any age to enjoy.
2. Stop and smell the roses
Boasting over seven gardens, with over 52 acres of land and holding over 10,000 taxa of plants The Brooklyn Botanic Garden (Adults $10; Tues-Fri 8am-6pm, Sat-Sun 10am-6pm), has come to represent the very best in urban gardening and horticultural display. From the Cherry Tree garden with more than 200 cherry trees to the Steinhardt Conservatory, which houses an extensive tropical and desert indoor plant collection, The Brooklyn Botanic Garden allows for all visitors to take relaxing stroll among a variety of gorgeous plant life.
3. Bridge over the East River's water
As one of the oldest suspension bridges in the US, The Brooklyn Bridge connects the boroughs of Manhattan and Brooklyn over the East River. With a separate walkway along the centerline for pedestrians and bicycles, The Brooklyn Bridge allows a gorgeous panoramic view of both Manhattan and Brooklyn.
4. Millions of eye-opening works of art
With over 1.5 million works of art, the Brooklyn Museum (Suggested contribution $12; Weds and Fri-Sun 11am-6pm, Thurs 11am-10pm) is one of the oldest and largest art museums in the country. From ancient Egyptian masterpieces to a variety works of contemporary art, its world-renowned permanent collections represent a wide range of cultures. Only a 30 minute subway ride from midtown Manhattan, the Brooklyn Museum is part of a complex of 19th century parks and gardens.
5. Connect with wild nature
With over 630 animals representing 141 species, the Prospect Park Zoo (Adults $8; Autumn/winter opening hours 10am-4.30pm daily) allows visitors to see animals habitats as they climb treetops, mountains and flooded forests. From mammals, to birds, to reptiles and amphibians, zoo visitors can explore through planted pathways and wind through lush gardens to experience firsthand feeding demonstrations and view animal senses.
6. Grand Army Plaza
As the main entrance to Brooklyn's Prospect Park, the Grand Army Plaza was created to provide a wide and picturesque approach to the park. From the Soldiers' and Sailors' Arch and the Bailey Fountain, to the John F Kennedy Monument and Civil War generals' statues, the Grand Army Plaza is considered to be a National Historic Landmark. With a variety of farmers markets held on the front of the plaza, visitors can enjoy incredible views of the landmark before taking a stroll in Prospect Park.
7. Over 25 miles of books
As the fifth largest public library system in the US, the Brooklyn Public Library (opening hours vary) offers thousands of public and cultural programs to all visitors and contains over 5 million books. Hoping to ensure the preservation and transmission of society's knowledge, history and culture, the Brooklyn Public Library provides all with free and open access to information for education, recreation and reference.
8. A performing arts centre for all artists
Known as the centre for progressive and avant garde performances, the Brooklyn Academy of Music (BAM) is a multi-arts centre that is home to adventurous artists, audiences and ideas for over 150 years. By showcasing the work of emerging artists and innovative modern masters, BAM engages both global and local communities with their world-renowned programs and performances in theatre, dance, music, opera and film.