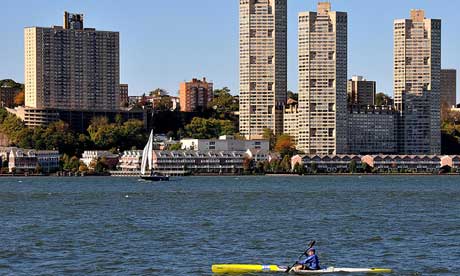 Kayak past skyscrapers in New York City
Make a splash in the Big Apple and see the city from a different view
The deep-throated roar of an engine to my left jolted me from my reverie. I glanced up, startled, just in time to see a multi-tonne chunk of metal narrowly avoid mowing me down: rush hour Manhattan, and the traffic was murder. Heading from 23rd Street in Chelsea to 79th on the Upper West Side, I thought I'd found a rat-run to bypass the motoring madness of five-o'clock gridlock; but a moment's lapse in concentration at a busy junction is all it takes to really ruin your day. All I could do was raise my oar in a single-paddle salute at the departing Circle Line boat and pepper the air with cusses before kayaking on out of the ferry lane.

Friends were aghast that a New York virgin like me would contemplate a weekend visit without strolling in Central Park, doing a King Kong on the Empire State or filling a Bloomingdale's Medium Brown Bag. But I wanted an alternative Big Apple experience; parklife I can get in London, and Macy's doesn't excite any more than Selfridges. So instead I'd planned a break for my backside: it might be consigned to a desk chair on Friday, on Monday a tube train; but on the weekend in between, my butt would be perched squarely on the seat of a canoe.

Kayaking has been floating the boats of urban types in a big way over the past half-dozen years, and not only in picturesque harbours such as Stockholm or Sydney. Now kayakers ride the waves in countless American cities like Tampa Bay, San Francisco and Chicago, while closer to home, Copenhagen's canals tempt intrepid water babies.

Eric Stiller, evangelical head honcho of the Manhattan Kayak Company, is no latecomer to the scene; son of a veteran, he's been converting New Yorkers to the sport for well over a decade. With steel-grey hair and that typically chiselled, film-star-square jaw, it's clear Eric was born with a double helping of chromosome All-American – he just sweats confidence.
Confidence erring on the unhinged side, in fact:
In 1992 he was persuaded by Tony, a lunatic Aussie, to paddle around the coastline of Australia. The first inkling of potential disaster came when Eric asked his co-paddler to pick up the maps. "We don't need charts," Tony exclaimed. "We just keep Australia on our left." Miraculously, they completed 8,000km – a third of the circuit – before coming to their senses and calling it a day.

Hearing this made me doubt the wisdom of trusting my novice's luck to a man clearly a couple of dimes short of a dollar, especially on the Hudson; ferries, cruise ships and water taxis total over 1,500 sorties a day, and the river itself is no pussycat – its powerful flow has carved a massive sea-floor canyon reaching 160km out into the Atlantic. But I was soon swept away by Eric's tide of enthusiasm.

"We'll time our trip so that we paddle four miles upstream on slack water, stop for a cold one at the 79th Street Basin café, then hitch a lift downriver on the ebb tide – about three hours." Well, in that case, how hard could it be? The Hudson's hardly the Zambezi, after all.

Gliding out from the harbour at Chelsea Piers into the river's current, the wharfs of industrial New Jersey jutted out across the river. To most New Yorkers, the Hudson River is just the barrier keeping New Jersey at bay. (As Nick, a British ex-pat kayaker, commented wryly: "To New Yorkers, Jerseyites are as Essex-dwellers are to Londoners: provincial wannabes.") That Jersey skyline is gradually creeping upwards, but I gasped as we turned upriver and the forest of Manhattan skyscrapers was revealed to our right, stretching north as far as I could see.

And it wasn't just the vista that caught my breath; slack tide or not, the current pushing against us kept me straining at my paddle, trying to adhere to Eric's instructions: "Pull with your stomach muscles, not your arms." Fine, if you have stomach muscles. But I'm blessed with flabs rather than abs, and it took a while before I could concentrate on my surroundings rather than my stroke.

When you're standing amid the looming giants in the city's heart, it's easy to ignore the fact that Manhattan is an island; your eyes are constantly drawn upwards by the endless avenues of monoliths. But the perspective offered from the lowly seat of a kayak floating just a metre above the drink – and hundreds below those condos, museums and department stores – was tantalisingly different from that seen by most weekend visitors.
Site-seeing with a different view
The usual icons took on unusual aspects as they came into view from this angle: the Empire State stood imperious behind the brash, would-be glamour of Donald Trump's half-empty apartment blocks; the über-stylish Art Deco Chrysler Building seemed crowded by upstart skyscrapers; and Liberty was rendered tiny by perspective, peeking over from Ellis Island. Less well-known sights gained in stature from river level: paddling alongside the imposing grey hulk of the aircraft carrier USS Intrepid, I felt like a mayfly scudding across the water's surface next to a crocodile.

So unlikely in the self-proclaimed Greatest City in the World, the peace of being waterborne sneaked up on me. Away from the ferry lanes the only sounds were the slapping of water against pier struts and a faint background honking of horns, like a TV was playing in a next-door house. I felt removed from the city, as if I was peering across a barrier at the zoo; conversely, dog-walkers in Riverside Park gaped at us floating just metres from them, like we were an exotic species of giant otter.

As I drifted parallel to the panorama of man-made grandeur, most unexpected of all was a sense of the wild in this most urban of locations. This was no pedalo ride – slack tide or not, the current pushed against my vessel as surely as any river in the wilderness; three hours of paddling turned into five, and at the end of the voyage, my stomach muscles and shoulders ached pleasantly. This Manhattan tour was anything but passive, but I did get to see most of the great icons of New York – and my butt never had to lift from its seat.