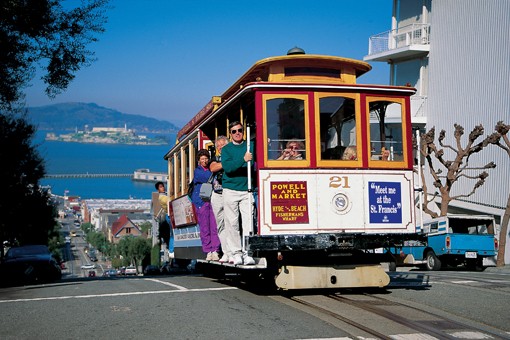 From cable car rides to boat trips to an abandoned prison, book a San Francisco hotel and see the city in a new light on one of these top 10 San Francisco journeys.
Hop on a cable car
Listen for the sound of the conductor's bell to catch the cable car at Powell and Market. Hold on tight to one of the poles as the trolley makes its way through the steep slopes of Nob and Russian hills.

Municipal Transportation Authority


A boat ride to Alcatraz
Book tickets in advance for a boat to one of the most notorious jails in the world. The ride across the San Francisco bay is short, but windy – it's easy to see how treacherous the waters were for attempted escapees. For an especially chilling experience, take the night tour to the island.

Pier 33, Hornblower Alcatraz Landing, 94111


Bike across the Golden Gate Bridge
Rent a bike and cycle across the Golden Gate Bridge. The brisk wind across the bay will cool you down as you pedal, and the views back over the city are stirring. If you're tired from your trek, you can always catch a ferry back.

3038 Fulton Street, 94118


Drive down the crookedest street in the world
San Francisco is famed for its hills. Eccentric Lombard Street is so steep it has to zig-zag back and forth to allow cars a safe descent. Lined with Victorian mansions on both sides, the street is beautifully manicured with flowers and shrubbery.
Walk the botanical gardens
Take a journey through the San Francisco Botanical Gardens to see native plants, towering redwood trees, and exotic fauna from around the world. The daily tour is an educational experience, but the gardens can be explored independently.

1199 9th Avenue, Golden Gate Park, 94122


Elevator ride up Coit Tower
On top of Telegraph Hill in North Beach, circular Coit Tower was built in 1933 for local philanthropist Lillie Hitchcock Coit. Walk into the lobby and browse the public murals before taking the elevator up to enjoy one of the best views in the city.

1 Telegraph Hill Boulevard, 94133


Journey to the stars
Take a virtual journey around the universe under the dome of the Morrison Planetarium at the California Academy of Sciences. The 30-minute round trip zips through the atmosphere, past the moon, Mars and beyond.

55 Music Concourse Drive, Golden Gate Park, 94118


Paddle or row on Stow Lake
For a romantic outing on a clear day, row your loved one on Stow Lake in the middle of Golden Gate Park, surrounded by urban greenery and water fowl.


Take the 44 O'Shaughnessy Bus
Hop on the MUNI bus line in Bayview Hunters Point towards Richmond. You'll get a fast-paced, exciting, bumpy ride up and down San Francisco's hills, passing through Glen Park, Laguna Honda reservoir and other scenic parts of the city which many tourists miss. Hop off at Golden Gate Park.



Tour the waterfront on a Segway
Take a guided tour of the waterfront on a two-wheeled electric transporter. After a brief training with a friendly instructor, you're on your way to seeing the city from a different vantage point while learning a bit of history and trivia.

757 Beach Street - Rear Parking Lot, 94109