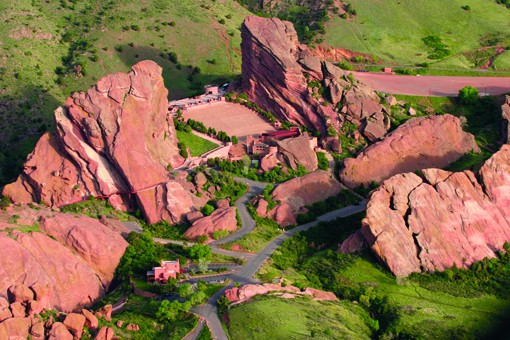 Gondola cruises, neighborhood strolls and jazz under the stars – Denver relishes its outdoor life style. Book a Denver hotel and join in the fun with this guide to top the 10 outdoor things to do in Denver.
What's Blooming Tour of the Denver Botanic Gardens
The winding paths snaking through the desert plants and aromatic fragrance garden invite otherworldly strolls. Take a break from the sun to see the latest floral colors on a What's Blooming Tour.

1005 York St. 80206


Denver history from a gondola
Take in a Denver sunset on a relaxing gondola ride on Cherry Creek during the summer. The downtown skyline twinkles beneath the Rocky Mountains as a guide regales illuminating stories of Denver's past.

14th and Larimer streets, Lower Downtown 80238


Boutique shopping in Larimer Square
Discerning shoppers come to poke around the chic boutiques and art galleries that line this intimate 19th-century downtown block. Book a Denver hotel nearby to spend leisurely afternoons browsing chic little shops and elegant jewelery emporiums, then stay for dinner at a sleek French bistro or a rustic chophouse.

1400 block of Larimer Street, Lower Downtown 80238


Jazz under the stars in City Park
Sunday afternoons bring jazz fans to the bandstand near Ferril Lake in City Park for a free concert. Pack a picnic, lay out a blanket on the grass and soak up the be-bop grooves as the sun dips below the city skyline.

17th Avenue and Colorado Boulevard 80205


Marine life at Downtown Aquarium
Wander among the nurse sharks and sea turtles – maybe even pet the stingrays in this open-air aquarium. Continue the underwater adventure in the aquarium's restaurant, where tables are surrounded by an aquarium full of colorful sea life.

700 Water St. 80211


Hiking in Red Rocks Park
Just 15 miles southwest of Denver, Red Rocks Park not only draws top names like U2 to its natural amphitheater but hikers as well. Bring a sturdy pair of boots to hike the Trading Post loop trail, which wends through the stunning cinnamon-colored rock formations.

18300 W. Alameda Parkway., Morrison 80401


Out and about in LoDo
Bordered by 16th and 20th streets and Lawrence and Wynkoop, Lower Downtown Denver buzzes with brewpubs, dance clubs, Old West saloons and outdoor cafés. Come in the late afternoon for a brewpub patio break and linger into the evening to get the full experience.
Cooling off at Water World
Take a break from the Denver sun in the fun-filled pools at Water World. Whether riding an inner tube on river rapids or frolicking in the wave pools, cooling down in Water World is one of the top 10 outdoor things to do in Denver.

1800 W. 89th Ave., Federal Heights 80260


Touring Capitol Hill
A walk around Capitol Hill encompasses some of the city's top institutions and sites. Within a few blocks you can marvel at the copper-and-gold dome of the state capitol, watch chunks of metal become coins at the U.S. Mint or tour the restored 19th-century Victorian Byers-Evans House Museum.

Lincoln Street and Colfax Avenue 80204


Hayrides in Cherry Creek State Park
Hay-filled wagons drawn by Belgian draft horses clip-clop peacefully down the prairie paths at Cherry Street State Park. Pack a picnic basket of goodies and let a sunny afternoon float by.

4201 S. Parker Road, Aurora 80014