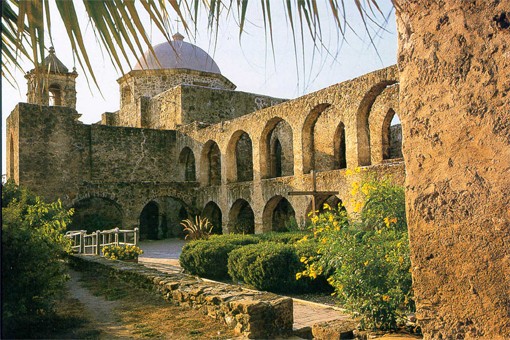 Mariachi bands, Spanish colonial art and German music create a unique San Antonio culture. Book a San Antonio hotel and explore the many sides of this Texan city.
Spanish culture at historic missions
Walk through butterfly gardens, hand-painted chapels and graceful stone arcades at San Antonio Missions National Historical Park. The Spanish Franciscans' 18th-century presence is still seen in San Antonio's adobe houses, Roman Catholic churches and Spanish-speaking residents.

6707 Roosevelt Ave. 78214


Dance at a native cultural centre
Watch the colorful dance performances in the Guadalupe Cultural Arts Center. Latino and Native American traditions take center stage with ongoing exhibitions and festivals of flamenco dance, Southwestern film, accordion competitions and plays.

1300 Guadalupe St. 78207


Shopping at Mexican markets
Browse La Villita's galleries with fantastically-carved animals and brightly-colored hand-woven textiles, then munch on traditional Mexican tacos at a village café. San Antonio's first neighborhood, La Villita, is a historic San Antonio culture and arts village highlighting handicrafts indigenous to the area.

418 Villita St. 78205


Fine art at the River Walk
Examine intricate stone talismans of pre-Columbian America, religious Spanish colonial icons or the bright splashes of contemporary Latin American artists on display at the San Antonio Museum of Art. The museum's Latin American collection is especially impressive, but there are also exhibitions of European, Asian and African works.

200 W. Jones Ave. 78215


World cultures at HemisFair Park
A surprising mix of Czech polka dancers, Lebanese merchants and Danish sculptors joined with Mexican cattle hands and German farmers to make San Antonio what it is. That's the theme of the Institute of Texan Cultures, which highlights diverse traditions through videos, interactive lessons and a re-created Texan barn and adobe house.

851 E. Durango St. 78205


Mariachi bands Downtown
Hear the soaring notes of Mexican singers and some of the world's top mariachi performers. Each November hundreds of bands, musicians and soloists meet in the Mariachi Vargas Extravaganza for a week of performances, competitions and workshops.


First Fridays at Southtown
Visitors alternate their time browsing art galleries and spilling on to the street in a monthly party celebrating San Antonio's culture. The free First Friday celebration takes place in the city's arts district, Southtown, and features works of brightly painted Day of the Dead folk art alongside live music, dance and food vendors.


Southwestern style at the School of Art and Craft
Amateur artists sharpen their skills at the Southwest School of Art and Craft, learning techniques for making jewelry and other arts and crafts. Visitors can see finished products made by the school's most gifted students in the gallery and shop.

300 Augusta St. 78205
German culture in the historic district
Lunch on bratwurst and listen to polkas at Beethoven Maennerchor German festivals. The society preserves San Antonio's German roots with performances by German choirs and folk dancers as well as garden concerts in the King William Historic District.

422 Pereida St. 78210


Outdoor performances at Arneson River Theatre
Energetic guitarists and the high notes of trumpets fill the air at Latin music concerts at the Arneson River Theatre, near many riverside San Antonio hotels. The San Antonio River provides a serene foreground as it flows between the stage and amphitheatre seats.

S Alamo at Nueva St. 78205