A Macy's Thanksgiving Day Parade in New York City travel guide – colorful floats, Broadway dancers and 800 clowns
TIME : 2016/2/24 10:36:01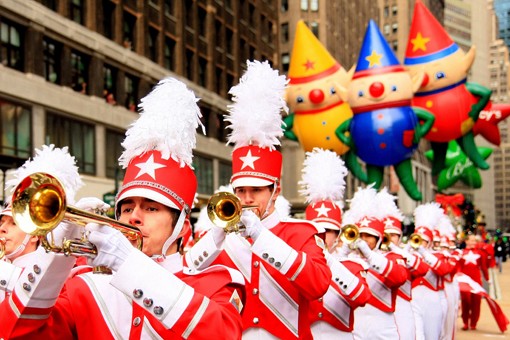 Watch giant balloons, marching bands and clowns playing around on Macy's Thanksgiving Day Parade vacations in New York City. Get a jump on Macy's Thanksgiving Day Parade hotels in New York City by booking well in advance.
Family fun
Festivities for Macy's Thanksgiving Day Parade kick off the day before, when crowds gather to watch balloons get filled with air. On Thanksgiving Day, score a spot early on Central Park West, and watch cheerleaders, marching bands, colorful floats and clowns roll down the street. Afterward, head to Macy's for a visit with Santa Claus and make your Christmas wish.


Cultural events
During the parade, stars from Broadway's current productions treat the audiences to special performances at Herald Square. National singers also turn up for the spectacular. New York City continues the festivities with holiday lights tours, walking tours of Rockefeller Center and the Rockefeller Christmas Tree, and holiday shows on Broadway. Watch the world-famous Rockettes kick up a storm at the Radio City Christmas Spectacular.


Shopping
Across the country, the day after Thanksgiving is the biggest shopping day of the year. And New York celebrates this tradition like no other. Admire the elaborate holiday window displays at Macy's and Fifth Avenue department stores like Saks Fifth Avenue and Bergdorf Goodman, while sifting through holiday bargains.


Food and drink
Thanksgiving Day is a food tradition, and New York City rises to the occasion. The Central Park Boathouse dishes up a traditional turkey dinner, while the SoHo Grand puts on a sumptuous turkey buffet. At the Sea Grill, overlooking the skating rink at Rockefeller Center, seafood makes up the Thanksgiving feast. After dinner, burn off the calories with a spin on the ice.


Practical information

When: Thanksgiving Day, the fourth Thursday of November

Time: 9am to 12pm

From W. 77th St. and Central Park West to W. 34th St.

Cost: Free