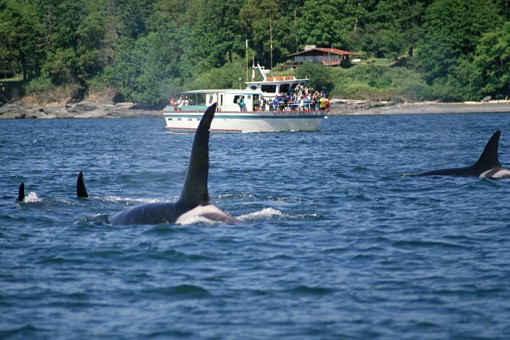 A summer vacation in Seattle sees orcas return to Puget Sound, snow-capped Mount Rainier emerge from its winter cloud cover and café goers flock to the street-side tables of Pike Place Market. Use your hotel in Seattle as a base and watch Seattle come alive with the sun.
Whale-watching cruises
The heat and noise of Seattle are only a memory as you sail through the spray and glistening waves of Puget Sound. Whale-watching excursions depart from the San Juan Islands in summer, cruising the waters in search of the 80 black and white orcas that treat the Seattle area as their home.


Café dining at Pike Place Market
Dig into a rich, creamy bowl of seafood chowder, munch on a fresh green salad or sip a cup of Seattle's beloved coffee. Whatever the food, Seattleites love to dine outdoors, soaking up the sun at alfresco cafés after a long, rainy winter and spring. Join the celebrations, feasting on local seafood specialties or cuisine from South America or Thailand. Cafés cozy and boisterous, local and international, occupy Pike Place Market and the surrounding streets.


Hiking in Mount Rainier National Park
Mt. Rainier hides its impressive snow-capped peak from view under spring clouds, but summer reveals its grandeur. Sunny mountain meadows brim with colorful wildflowers, 1,000-year-old forests cool the air, and the mountain peak towers over all. Hiking trails don't lose their snow cover until late June, making summer the season for full access to Mount Rainier's footpaths. Trails vary from easy to strenuous and from less than ½ mile to the 90-mile Wonderland Trail.


Strolling Seattle's waterfront
A Pacific breeze blows across Puget Sound in summer, cooling visitors to Seattle's waterfront. Stroll Alaskan Way to count the ferries, cruise ships and freighters on the sound. Souvenir shops and the Seattle Aquarium break up the walk, as do lunch stops at the waterfront's many seafood restaurants. Excursions can easily be extended to include more distant Bremerton and Bainbridge Island, with ferries departing from Pier 52 on Alaskan Way.


Ferrying across Puget Sound
Ferries ply the waters of Puget Sound year round but summer holidays in Seattle mean warm Pacific breezes, quiet island getaways and a cityscape backed by a clear blue sky. Many visitors ride the ferries from Seattle's waterfront simply to view the city from the water and to see the purple hues of the 80 surrounding islands and peninsulas.
Dine atop the Space Needle
Seattle's trademark Space Needle escorts visitors to extraordinary heights year round, but there's little sense in ascending the 520-foot tower when winter's clouds loom. Summer holidays in Seattle are the best time to enjoy the view from the Space Needle's observation deck. If the sky is cloud-free you can see Mount Rainier to the southeast, the San Juan Islands to the northwest, and Olympic National Park to the west. Dine in the 360-degree rotating restaurant, SkyCity, atop the needle.


Winery visits in Woodinville
Wander rolling green vineyards on a guided tour of one of 40 Woodinville wineries. Summertime favorites like crisp rieslings and buttery chardonnays are bottled at Chateau Ste. Michelle, Washington's oldest winery, and Hollywood Hill, an organic vintner. Domain Ste. Michelle produces sparkling wines, while Matthews Estate specializes in cabernet sauvignons and Bordeaux blends.