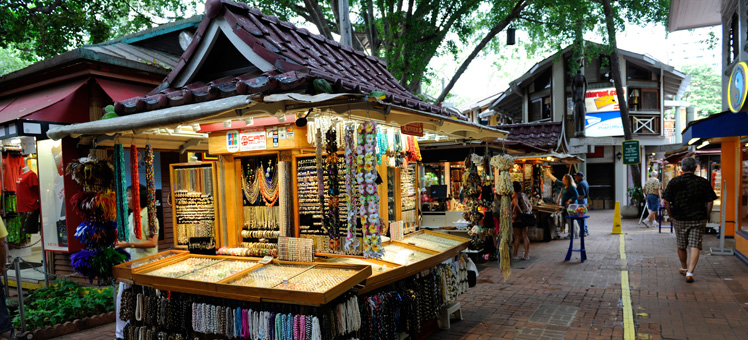 <span>Oahu is a shopper's delight, with large malls, premium outlet stores, boutiques and markets to be found throughout the island. From the larger shopping centers to the relaxed coastal town boutiques, visitors will be spoilt for choice at the choice of goods available, and can also enjoy having a huge variety of eateries to relax in after flexing their credit cards.</span>
Get haggling to bag a bargain at the popular Aloha Stadium Swap Meet, and source luxury brands at low prices in the many outlet stores. Honolulu holds the most concentrated shopping areas, with the popular Ala Moana Shopping Mall drawing many visitors to its vast array of shops. For those looking to take back home a little bit of Oahu should note that souvenirs are best sourced at the local markets as prices can inflate considerably in the tourist areas such as Waikiki.
Central Oahu
Those after discounted luxury brands should head to Waikele Premium Outlets which include big name brands such as Armani, Calvin Klein and Michael Kors. A favorite for everyday purchases is the Pearlridge Center which is open from 9am-9pm and is home to local style shops, household names and plenty of big name eateries such as McDonalds and Taco Bell for re-fuelling. Pearlridge is also the place to pick up bargain surf equipment at Blue Surf Hawaii.
Honolulu
Oahu's largest outside mall can be found on the outskirts of Waikiki. The Ala Moana Shopping Mall has over 200 fashion stores, independent boutiques and luxury brands to keep even the most discerning shopper occupied for the day. If you are looking for Hawaiian souvenirs, take a short walk over to the Aloha Tower Marketplace which sells handmade crafts and local goods and has a relaxed atmosphere where shoppers can relax in the open air bars and restaurants that line the Honolulu harbor.
Aloha Stadium Swap Meet
Situated west of Honolulu, the Aloha stadium hosts a popular marketplace on Wednesdays and weekends (except for event days) outside Aloha Stadium. For a dollar entry fee you will have access to many vendors selling niche objects, aloha clothing and local crafts and souvenirs at a fraction of the price charged in larger shopping malls. If you are staying in Waikiki there is a bus route (#20, Route A City Express) which will take you straight to the stadium, and is a great day out. Get there early (9-10am) to escape the crowds and to bag the best bargains.
Windward Coast
Along the quieter east coast you'll find the Windward Mall in Kaneohe. A relaxed shopping centre featuring big name shops such as Macy's and Sears, visitors and locals alike enjoy the many stores and large food court. Head to the huge pop up farmers market for local produce on Wednesday from 2.30pm to 7pm, and Saturday from 8am to 2pm. You can also find large convenience stores such as Walgreens and Safeway nearby.
North Shore
Spend time in the surfer's paradise of North Shore and you're bound to find yourself drawn to the funky clothing boutiques and cool surf shops in the historic town of Haleiwa. The shopping experience here very much follows the relaxed vibe of the town and its inhabitants, and is great for browsing and chatting to the local shopkeepers who will be more than happy to help your with your purchases - especially if they are surf related! Surrounded by art galleries and bohemian cafes, a day shopping in Haleiwa comes highly recommended.
Oahu Shopping Tips
Occasionally high winds and bad weather can cease trading at the open air markets so always check the forecast before heading out. For visitors without a hire car there are good bus routes to the larger shopping centers, especially in the busier areas of Honolulu and Central Oahu.