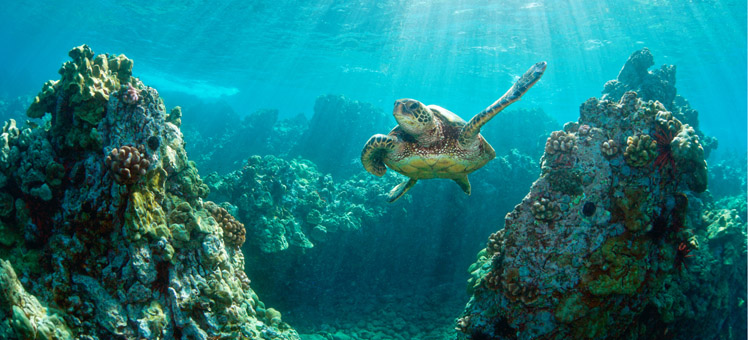 One of the most romantic of Hawaii's islands, Maui is an island paradise. Beautiful beaches are matched by a diverse interior of lush rainforest, volcanic moonscapes and hidden swimming lagoons. Hire a car and explore the island through a series of stunning drives, where you can stop at small, characterful towns and sink onto secluded beaches. For adventure enthusiasts, Maui is brimming with surfing opportunities, while those who like to explore nature in a more relaxed way can dip beneath the waves to snorkel, or hike up to Mt Haleakala to experience an unforgettable sunrise. Keep yourself fuelled with organic, locally sourced cuisine, or blow off steam at a traditional Hawaiian luau.
The Road to Hana
Car hire is very affordable in Maui, and the perfect way to explore the island and its diverse landscape is by road. The road to Hana is one of the world's best drives, winding past hidden waterfalls and reaching high plateaus with scenic ocean views. It's a great opportunity to appreciate Maui's diverse landscape - the road passes through the desert-like interior of the island, but also through lush farmland and volcanic coastal cliffs. The 15 mph speed limit, busy traffic and steeply curving roads means your journey has to be taken at a leisurely pace.
Haleakala National Park
Maui's Haleakala National Park preserves a volcanic crater, and around it sprawls a mysterious moonscape which was once created by scorching lava flows. Outside the crater grows lush, green rainforest, filled with endangered species which are unique to Hawaii. The view from the summit of Haleakala volcano is one of the best sights on the island – if not in Hawaii. Hike to the top at dawn to witness the sun slowly rising above the crater rim, filling the landscape with light and taking your breath away.
Surf at 'Jaws'
Head to Peahi, to witness pro-surfers take on mammoth waves. This stretch of coastline has even been given the title of 'Jaws', reflecting the extreme and unpredictable surf. Or, visit Hookipa Beach near Paia for an alternative surf spot to watch the experts show off their skills. If you fancy trying out some easier surf as a beginner, the beaches around Kihei, Lahaina and Kaanapali have smaller swells. Or, you can try paddle boarding for an even simpler introduction; great for first timers with its slightly larger board and paddle for support.
Watch whales
Every winter, humpback whales journey across the Pacific to Maui's waters. Whale watching season begins in December and ends in April or May, when the whales travel back up to Alaska. Up to 3,000 of them bask in Hawaii's coastline each year, so it's easy to see humpback whales basking from the shoreline, breaking the serene surface of the ocean in front of you with their fins. Or, go on a whale watching cruise. The Pacific Whale Foundation runs 15 trips a day out to see them from Kihei, on its catamaran, the Ocean Explorer.
Eat Maui style
Maui's food culture is uniquely renowned amongst the other islands. While it has its fair share of traditional Hawaiian luau, its slow food movement has been gradually growing in popularity, and the results of this provide the perfect accompaniment to the wild landscape. Local ingredients are plucked, caught and harvested from the surroundings, and cooked to bring out the best of the natural flavors. If you want to visit a luau, make it the Old Lahaina Luau. Considered the best on the island, sip on cocktails and feast on pork roasted in an imu – a traditional underground oven.