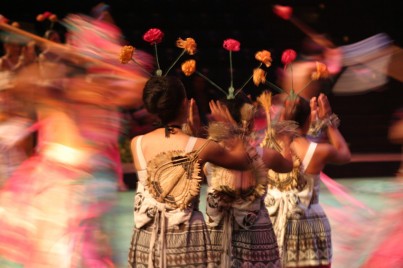 Visitors to Hawaii will never be stuck for something to do as there is a wide range of entertainment options aimed at people of all ages and from all walks of life. There are outdoor activities such as trekking, kayaking, surfing and snorkeling, while shopping and island hopping is always popular.
When it comes to evening entertainment, Hawaii really comes to its own. While the area's beach bars are always a good place to relax with a beer or two as the sun sets, there are also some vibrant stage shows to see as well as clubs. Lovers of live music will find plenty of places to listen to bands, while traditional Hawaiian dance performances are often held on the beach and at large restaurants.

A good time to visit Hawaii is during one of the annual festivals, which usually feature plenty of singing, dancing and feasting. The Aloha festivals are particularly vibrant and are held on separate weeks on each island throughout September and October.


Cirque Polynesia
This spectacular circus-style show of Cirque Polynesia is held at the Hyatt Regency Maui Resort and Spa's Monarchy Showroom at 19:00 each night. Popular with families, the show transports the audience to the world of fantasy and magic.


Sugar Cane Dinner Train
Visitors to West Maui can take this memorable train journey from Ka'anapali to Lahaina and enjoy a delicious meal on the Sugar Cane Dinner Train while watching the sun slowly set. Popular with people of all ages, this is a memorable way to see West Maui.


Hawaii Day Sailing
Hawaii is an excellent place to explore by boat and there are numerous different types of sailing trips available here. A popular option is the Oahu turtle canyon snorkel excursion, which allows visitors the chance to swim with turtles and other marine life.


Hawaii Bike Tour
Cycling around one of Hawaii's main islands is a fantastic way to discover the natural beauty. Planned tours include a guide and take visitors along well-worn cycle paths to discover traditional villages and hidden beauty spots.
Haleakala National Park
Located on the island of Maui, the Haleakala National Park is home to a magnificent volcano and a fantastic place to explore. Family camping and hiking trips are popular here, especially at weekends, when the park can get rather busy.


Hawaii Dolphin Encounter
Head to the island of Oahu for the chance to interact with friendly and intelligent marine creatures in their natural habitat and learn all about them at the same time.


Aloha Festivals
Featuring colorful parades, concerts and street parties, the Aloha festivals are held in Kauai, Maui, Oahu, Molokai, Lanai and the Big Island of Hawaii during September and October and are a great time to experience the unique culture of these islands.

Find more information about Hawaii and hotels in the area:
Hawaii hotels | United States hotels