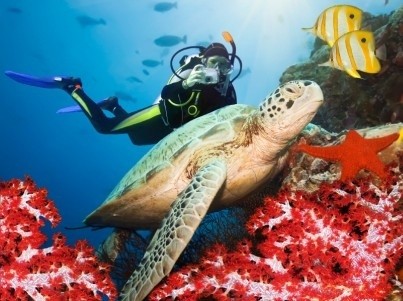 The picturesque island of Guam attracts tourists from all over the world as it offers a diverse range of activities for visitors to take part in. In addition to excellent dining, drinking and shopping venues, there are also plenty of leisure activities.
Many visitors are drawn to Guam for its water sports and this is an excellent place for surfing and scuba diving. Those who enjoy messing about on the water can also go kayaking, windsurfing, sailing and of course, swimming.

The festivals in Guam are particularly vibrant and one of the best times to visit is in July, when the island hosts a month-long festival to celebrate its independence. A large number of other festivals are held throughout the year and feature firework displays, feasting and parades through the streets.


Surfing
This is one of Guam's most popular attractions and people come from all over the world to test the waves off Talofofo Beach. Visitors who are just learning to surf may want to check out Glass Breakwater Beach, which is located near Apra Harbor.


Dolphin watching
Guam is an excellent place to spot dolphins jumping in and out of the waves. Many of the island's tour operators offer special dolphin watching tours, while visitors can also opt to hire a private boat for the chance to see these majestic creatures in their natural environment.


Liberation celebration
While Liberation Day is held on July 21 to mark Guam's liberation by American troops in WWII, the entire month of July is a time to celebrate. The highlight is the Liberation Carnival, which dominates Joseph Flores Beach, while the fireworks display over Tumon Bay is simply spectacular.


Eco tours
Known locally as 'boonie stomping', these tours take visitors on a trek through Guam's boonies and outback jungles. The Parks and Recreation of Guam arrange special tours, which are the perfect way to discover hidden beaches and spot wildlife.


Diving
The waters off Guam are teeming with underwater sea life and spectacular coral reefs, making them a great place for scuba diving. There are many different kinds of tours available and it is a good idea to contact the Micronesian Diver's Association for up-to-date information.


Onward Waterpark Guam
Located in Tamuning, Onward Waterpark Guam is the island's largest water park. Featuring five different water slides, the park also offers visitors the chance to take a dip in the many different pools here and relax at the pool bar.
Namo Falls Botanical Park
Featuring two stunning waterfalls, this large and lovely park can be found in Santa Rita. Nature lovers will want to wander along the park's numerous paths to discover a diverse range of flora and fauna.


Nightlife
Guam has an excellent range of nightlife and each village here has a good selection of bars as well as a scattering of nightclubs. The beer in Guam is reasonably priced and the highest number of bars can be found in Hagatña, Barrgada and Agat, while music lovers will want to head to Tumon to listen to live jazz and blues.