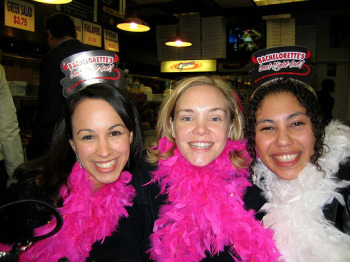 Chicago is a popular destination for bachelorette-party weekends in the midwest. Brides-to-be looking for that one last hurrah, a wild weekend, or just some quality time with their best girlfriends come to enjoy the sights and sounds of the city, relax with days filled with spa treatments or nights at the city's best clubs. If you're planning a Bachelorette weekend in Chicago, here are some ideas for things to do.
Spa treatments
Chicago has hundreds of spas, from the spendy and chic like the spa at the Peninsula to the low-cost and fun like Nail Bar (where you can bring in your own wine or beer to really get the party started), there are spas for all price ranges.
Shopping
Whether your group wants to browse the designer shops of Michigan Avenue or the indie boutiques of Bucktown, you can certainly "shop till you drop" – or at least until you run out of money. For the scoop on where to find the best stores according to your shopping style, click here.
Fun fitness classes
Most brides-to-be want to get or stay fit before the big day, so adding a few group fitness classes into your trip is sure to be appreciated. You can get day passes at most city gyms, or get free trial sessions for classes like Bikram Yoga, the Bar Method, and Pilates. Chicago is also home to "Flirty Girl Fitness" studio, where group classes in sexy dancing are taught in a fun, lively atmosphere.
Dining and drinking
No Bachelorette party is complete without some delicious meals and strong drinks. Depending on the size of your group, you can arrange for a private room and a set menu at many restaurants. Save money by choosing a BYOB or go for broke at a restaurant offering a multi-course tasting menu. You'll have equally as many options for nightlife, depending on your style and budget.

Bars for bachelorettes
Some places are just more suited for the typical bachelorette party (the kind that involves tiaras, veils, and various accouterments in the shape of a part of male anatomy) than others. Two that definitely make the cut are Kit Kat and Howl at the Moon. Kit Kat, a gay bar in Boystown, is known for its extensive martini menu and weekend drag shows. You'll need to call ahead to get a table; there are often multiple parties happening there each weekend. Howl at the Moon, downtown, offers nightly dueling piano and vaudeville shows that are also a hit with bachelorette parties.
Cooking classes
Cooking classes are a fun activity that gets everyone in the group involved in a hands-on way. Especially great for a bride-to-be who doesn't know how to make anything but toast, cooking classes at the Chopping Block range from $35-80 per person, and once the class is over, students can feast on the meal they've just learned to prepare. The Chopping Block also sells wine for students to consume during the lesson.
Wine tasting
Tasting wine is a great activity for bachelorette groups who may want to avoid the bar scene. Not only do you get to learn all about wine – where it comes from, how it's made, and the factors that affect its taste – but of course, you also get to drink it. Wine shops all over the city host weekly free wine tastings. The Poison Cup also offers wine tasting classes and events that combine wine-tasting with arts and start at $25 per person.