Hawaii is not only a beautiful destination for vacationers looking to see the tropical sights, but a much loved and respected surfing hub as well. Since Hawaii happens to be the most isolated landmass on earth, this means it draws surfers from all over the world to its amazing groundswell. For world class waves, there is no better spot than the beaches of Hawaii. Whether you're an experienced surfer or a beginner, there is a beach where you'll find your sweet surfing spot on Hawaii holidays guaranteed.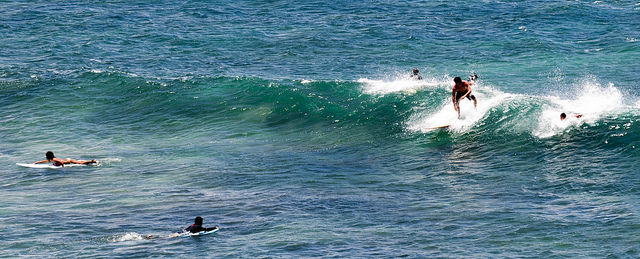 Here is a list of some of the best Hawaiian surfing destinations (in no particular order) to for you and your board to catch some fantastic waves.
HALEIWA
This beach is located on the island of Oahu, and is known as the home to Van's Triple Crown Series, one of the most highly esteemed surfing competitions in the world. Haleiwa is also host to the Surf-n-Sea International Open, an amateur competition for surfers looking to go professional. This area has legendary waves, but is best left to the advanced surfers – beginners may not fare so well in the large swells.
EHUKAI BEACH PARK
Ideal for medium to experienced surfers, Ehukai Beach Park is a terrific place to get the essence of Oahu's North Shore Pipeline. The swells will be a challenge for intermediate surfers who want to challenge themselves with some bigger waves. Ehukai Beach Park had a starring role in the '60s film "Surf Safari," where the narrator shouted "Banzai!" as a surfer tried to surf the legendary pipeline.
WHITE PLAINS BEACH
White Plains was previously a part of Hawaii's Barber's Point Naval Air Station, but today it ranks as a friendly spot for beginners to start their surf training. The beach offers gentle waves and if you're looking for surf lessons, the Hawaiian Fire Surf School can show you the way. This unspoiled beach is mostly tourist free and a quiet paradise compared to the other crowded surfing beaches.
WAIKIKI
Waikiki is no doubt one of the most visited and oldest attractions for surfers, and is for everyone from beginners to expert shredders. There are gentle rolling waves for the amateurs and stronger swells for the more seasoned surfers. The beach is a popular tourist destination, making it a great atmosphere for a little rest and relaxation when you come up for air from surfing the day away.
HOOKIPA
Hookipa features four main surf breaks and boasts awesomely consistent waves. The four breaks are known as Girlie Bowl, Pavillions, H'Poko and Middles. Not for the faint of heart, this beach is better left to experienced and advanced surfers. The breaks lineups all have a fantastic range of swells, but the best loved and surfed is Pavillions. The trick is to go early in the morning and get in the water before the wind hits, as the big WNW windswells it in late morning and continue into the afternoon. Late in the afternoon, Kona winds take over, and conditions are one again perfect to catch some waves.
Have you been surfing in Hawaii?