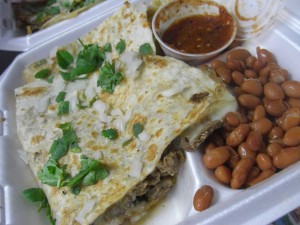 In the past year or so, food trucks have been popping up around Honolulu like crazy! The trend has so much momentum that by early 2011 we've already had two official food truck rallies to showcase the great variety of street eats and to give everyone a chance to sample some of the best that Honolulu has to offer.
Here's a quick roundup of just a few of the food trucks roaming (or in some cases, parked) around Oahu, with hints on what to try and how to find them! I've also included a link to Yelp.com reviews for most of these so you can see what others have to say about them. (I really don't know what we did before Yelp!)
This is just a small sampling… for a full listing, the authority is StreetGrindz.com's list which is kept updated here. You'll also find information on Eat the Street events there as well.
A few of my favorites…
Zaratez
Twitter: @Zaratez
Facebook.com/Zaratez
(808) 227-1422
Location varies, check updates on Twitter.
Reviews
Zaratez is definitely one of my favorite food trucks, and as of August 2011 they've moved from the Kapahulu location, so check for the latest on Twitter before setting out. Most recently we spotted them on Kapiolani in the Ala Moana area. Paul Zarate turns out delicious tacos, burritos, and my personal favorite, mulitas, with a variety of filling choices (carnitas, chorizo, al pastor, etc.) available as combo plates with beans and rice or ala carte. Tip: Ask for an extra cup of his flavorful home-made salsa.
Soul Patrol
Twitter: @PacificSoul
PacificSoulHawaii.com
(808) 735-SOUL
Reviews
Sean Priester now has a permanent restaurant location (Soul, up on Waialae Avenue) but his southern-style comfort food has been so popular that the Soul Patrol truck is out roaming once again. Portion sizes are HUGE, which is good because prices are a bit higher than most lunch trucks. Priester focuses on using fresh, local ingredients, often from Ma'o Organic Farms. Their buttermilk fried chicken is amazingly moist and full of flavor inside, but still crispy outside, and goes perfectly as a combo with chili, cornbread, Ma'o collard greens and a buttermilk slaw. I'm dying to try the shrimp and grits next.
Joe Aloha Lunch Wagon
Twitter: @JoeAlohaTruck
438 Kamakee Street
(808) 779-9770
Reviews
I first read about Aloha Joe's in this article, which declared them "far and away" the best ribs in Honolulu. I was curious to try them for myself and boy was I not disappointed! The ribs were deliciously tender, the sauce was smoky-vinegar combo that had me licking my fingers, and the entire plate lunch (which came with rice, green salad AND cup of a home-made chicken soup!) was only $7, what a steal. Update: According to a yelp reviewer, the price has gone up to $8 and the portion is smaller, but I'll have to verify that for myself!
Melt
Twitter: @MeltHNL
MeltHonolulu.com
Reviews
I dare say Melt is probably the most buzzed-about food truck on the Honolulu scene. Who doesn't love a grilled cheese sandwich, especially when you throw in gourmet flavor combinations, locally sourced ingredients, and a chef that formerly worked at Nobu? Come on! Daily specials change frequently, as does the location, so make sure to follow them on twitter. I've heard raves about: Surf & Turf special (steak sandwich + lobster bisque), harissa & pear, the duck confit, olive tapenade, the bacon melt, and of course the infamous Melt of Shame.
[Update as of 8/11 - Melt has closed, with rumors of a possible restaurant or new venture swirling about. Let's hope it's temporary!]
On my list to try…
Blue Truck Teppanyaki – Japanese Teppanyaki (plus breakfast)
University Area
(808) 389-6808
Reviews*
Yajima-ya – Japanese noodles & rice bowls (plus breakfast)
Twitter: @YajimaYaHawaii
Facebook.com/YajimaYa
Sheridan STreet Between Liona and S. King St
(808)497-7991
Reviews*
*Blue Truck Teppanyaki and Yajima Ya were both reviewed by my friend Ed Sugimoto in this great write up that left me drooling!!
Gogi – Korean Tacos/Fusion
Twitter: @EatGogi
EatGogi.com
(702)808-7044
Reviews
Ono To Go – Hawaiian Plate Lunch Favorites/Comfort Food
Twitter: @OnoToGo
Facebook.com/OnoToGo
Located near Walmart Keeaumoku
Reviews
T.A.S.T.E. – "Tasty Asian Style Taco Eatery"
2012 S. Beretania St.
(808) 429-0818
Reviews
Camille's on Wheels – fusion tacos plus desserts!
Twitter: @CamillesonWheel
(808) 282-1740
Reviews
Elena's Filipino Food Lunchwagon – Filipino
Twitter: @ElenasFilipino
Three trucks, various locations, times & contact info
Reviews