Island Lava Java
TIME : 2016/2/25 15:09:45
One of the best ways to get an early start on a morning in Kona is to enjoy a nice cup of 100% Kona Coffee right across from the ocean at Island Lava Java. This bustling cafe is popular with both locals and tourists for great American breakfast items including cinnamon rolls bigger than your head! (I'm not kidding, check out the picture!)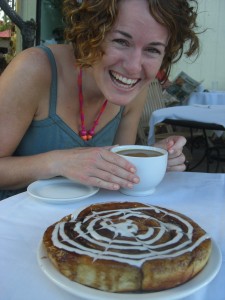 Island Lava Java is also open for lunch and dinner and their menu features locally sourced items including grass-fed beef and free-range chicken. Fresh fruit and veggies are featured prominently with most dishes and the staff was extremely helpful with recommendations, suggestions and requests.
Because they serve no alcohol, it's BYOB so feel free to bring your own drinks along to go with your meal. (Kona Brewing Co., perhaps?) Keep in mind that the location right on Alii Drive does make for a beautiful ocean view and some good people watching, but also traffic noise. Occasionally you will find live music to help drown it out though. And a Kona sunset in the background should pretty much make you forget about everything else.
Island Lava Java
75-5799 Alii Dr.
Kailua-Kona, HI 96740
(808) 327-2161
Hours: 6:30am to 9:30pm
Located in Alii Sunset Plaza, free parking in back.