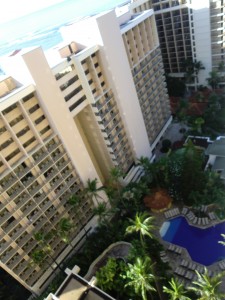 Choosing from the hotels in Honolulu can be daunting, because of the sheer number of choices available. This guide is meant to help you sort out your options, but please feel free to contact me if you have other questions or if you don't see your favorite hotel listed.
First, the big question: Waikiki vs. everywhere else.
Waikiki is not for everyone. While it is by far the most popular option for a place to stay while visiting Honolulu, keep in mind that hotels do exist elsewhere on the island, particularly a new crop of resort hotels out on the West Side. Vacations rentals are also an option if you'd like to check out the waves of the North Shore or the mellow town of Kailua and beautiful beaches of the windward side of the island.
That being said, Waikiki is the location of choice for a vast majority of travelers to Oahu. Why? Well, most Honolulu hotels are located there, first of all, and for good reason. Waikiki is the bustling hub of tourist activity on the island, which means that a stay in Waikiki will put you close to everything you need – an ABC Store on every corner, dining options for every budget, shopping, nightlife and activity options abound. Waikiki is a two mile strip of land that hugs the South shore, so you are never more than a ten minute walk from the beach. Getting to anywhere else on the island can be arranged from Waikiki with the hundreds of tour companies based there, or by renting a car, or hopping on the bus. It's really up to you!
Search the map below to find cheap hotels in Honolulu by location. It includes hotels near Honolulu International Airport (HNL) as well, so you will probably want to zoom down closer to Waikiki (towards the cluster of hotels) if you want to see the options in that area. Click on any red marker for the hotel name and a link to more information, or to book. Below the map, you will find other recommendations.

How to save money on a hotel in Waikiki:
Book in the off season – Hotel prices fluctuate with the seasons and also when there are major events happening on the island. In general, the busiest periods are winter (Mid-November through March) and during the summer (June through August). Hawaii has beautiful weather year-round (maybe a bit more rain in the winter) so if you can be flexible on your dates and travel during the off season, you'll find the best deals. Hotel packages can also pop up during off season times, which can give you perks such as deals on parking, dining, or spa packages.
Consider a location on Kuhio Avenue instead of Kalakaua – Beachfront hotels in Waikiki are mostly four- and five-star so you can save a considerable amount of money just by booking a location a block or two inland from the beach. Kuhio Avenue and Ala Wai Boulevard run parallel to the main beachfront drag of Kalakaua, and a variety of options are available there. For example: Courtyard by Marriott
Up for a splurge?
World-class options exist if you'd really like to live it up on your trip to Hawaii. Try Halekulani in the heart of Waikiki and just steps away from the revitalized Lewers Street area, or the Kahala Hotel if you'd like to get away from the bustle of Waikiki. The historic Moana Surfrider is a hauntingly beautiful option right on Waikiki Beach, and extremely popular for weddings and honeymooners.
If Waikiki just isn't for you…
Fear not! There are other options for hotels in Honolulu outside of Waikiki. On the West side of the island, the Ihilani Resort & Spa or Marriott Ko Olina are popular options. The North Shore features the classic Turtle Bay Resort. All feature fine dining, spas, and outstanding golf courses.