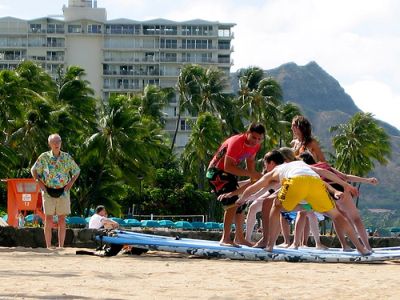 Sun, surf and sand are three things that immediately come to mind when you think about a Hawaiian vacation. For those who want to take the adventurous route and enjoy the surf, there are a few things that you should take into consideration before facing the full fury of the Pacific Ocean (though in my opinion enjoying the sand and the sun is a perfectly acceptable way to go–preferably with a cocktail).
However, if you are looking to learn how to catch some of those famous Hawaiian waves during your next trip to the isles, you have several options. If you are a beginner, but have already learned how to at least stand up on board you may be able to brave the waves without a lesson. Stick to a break you can handle, however, as the waves can be notoriously big and brutal in some places in Hawaii. Also, if you have never been out surfing at actually want to be able to stand up, a lesson is definitely recommended.
Take a Lesson
It is certainly not hard to find a place where you can learn to surf when you're in Hawaii. Every island is full with people and businesses gladly willing to show you how to ride those waves (for a price of course).
The great part about taking a lesson is that not only will they help teach you how to read and understand a wave, but they'll also coach you on standing up and taking your surfing to the next level. If you plan on coming back, this is definitely a worthwhile option.
Taking a lesson (or a few) is also a great investment because unlike skiing, once you have the knowledge and the gear, surfing is free. No life tickets needed, no extra expenses. And who doesn't like Free Things to Do in Hawaii?
If you find yourself on Oahu, the Hawaiian Fire Surf School has firefighters who will teach you how to surf. Not only are their prices affordable, they'll take you to a lesser known and more beginner friendly beach away from Waikiki (plus, you get to hang out with a hunky Hawaiian firefighter all day, which is pretty much reason enough for me).
Stop by a Surf Shop
If you want free, good advice, a great place to go is a local surf shop. Stroll in and talk to the local surfers about tips of where to go and where to avoid. Depending on your experience and skill level, they will probably be more than apt in pointing you the right direction (and outfitting you with proper equipment if you should need it). If you are nice, they may even let you know the overly crowded spots to avoid and which local spots that may not be the friendliest to tourists attempting to catch a wave.
Start at a Beginner Spot
Singer Jack Johnson may surf and live just off the famous North Shore Oahu Pipeline (check out other Celebrity Homes in Hawaii), but that doesn't mean that you should head out there before you are ready. Hawaii has many world-famous breaks that are dangerous even for professional and very experienced surfers. Remember to stay in your league. Beginners are usually best off sticking to the baby breaks (you might think you look lame, but at least you won't die).
Take the Easy (er) Option and go Boogie Boarding
If you want to get out and ride some waves, but aren't sure you up for investing the time. money and energy in a surf lesson or board rental, than going boogie boarding is a great option. Although Polynesians have been riding waves in the prone position on short boards for thousand of years, this sport first took off in the late 1970s after Tom Morey first successfully marketed the boogie board. Ever since, this has become a hugely popular activity for a wide range of people from professional boogie board riders and athletes to little kids to grandma and grandpa. Boogie board has a gentle learning curve, which means you can enjoy it almost immediately without any lessons. And for anyone who think it's wussy? Just tell them to check out some the world's top professional boogie boarders and they'll probably change their mind.
Keep in Mind
The surf in Hawaii is notoriously rough. A "Hawaiian Wave" is measured from the back of the wave, not the front. So, a wave that is 15 ft. Hawaiian is actually like riding on top of a 3 story building. Be aware of what the conditions are like before you head out and take proper precautions. Don't think that because you've done some totally awesome riding off the California coast you can necessarily handle a huge pipeline. These big waves often break on reefs and you can easily get hurt if you are unprepared to handle advanced surfing conditions.