Since the 1950s, Hawaii has been a hot spot for vacationing celebrities. Coaxed to the isles by the beautiful beaches, aloha spirit and stunning scenery, the rich and famous have long made the journey to Hawaii for a little R & R. Elvis Presley was one of the first stars to make the islands popular—filming a movie there and frequenting the islands until his death in 1977. Since then, stars have been photographed frolicking the beaches and getting cozy with their significant others among swaying palms and blue waters. Even President Barack Obama (who grew up in the islands and has instigated a wave of Obama tourism in Hawaii) recently vacationed in Hawaii near where he spent his childhood.
It is no surprise that while many stars choose to spend their vacations in expensive hotel suites, there are also many celebrities who own homes in the Hawaiian islands. From country music stars to day-time television divas, Hawaii is home to many celebrity vacation homes.
Barack Obama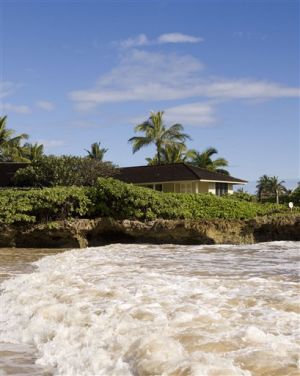 Barack Obama may have spent most of his childhood in Hawaii in a modest apartment building, but the President kicked back in some pretty sweet digs on his recent family vacation to the islands. On Obama's most recent trip to his home-state, he and his family chose to rent a $9 million single-story oceanfront home in a laid-back neighborhood on the other side of the mountain from Honolulu on Oahu. The house sits on over an acre of land fronting Kailua beach, which has long been a favorite spot for windsurfers and kayakers. If you want to check out more Obama tourist spots in the state, there are a growing number of tours promoting Obama tourism in Hawaii.


Randy Travis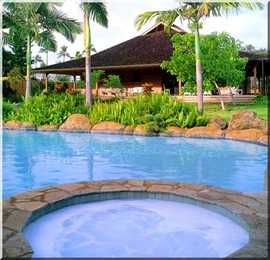 This Grammy award winning country music crooner is best known for his chart topping singles (he's had 30 make it on the Billboard hot country songs list) and also owns a beautiful home near Lahaina on Maui. The large 7 bedroom, 7 bath home boasts ocean views, exposed beam ceilings and lots of light. There is also a swimming pool and spa on sprawling grassy lawn flanked by palm trees offering plenty of luxury and privacy. The unique part about this celebrity home? You can actually rent it out for yourself. That means if you are hankering to see what it's like to live like a star in Hawaii, then book a vacation staying in this estate.


Oprah Winfrey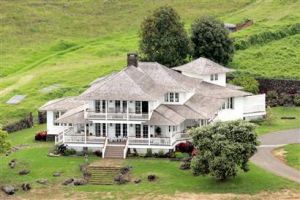 Long before Oprah buddied up with Hawaii-born Preident Obama, Oprah Winfrey purchased a lavish $8.8 million dollar home on Mauai. The large estate, which sits on 60 acres of land and overlooks the Pacific gives the television host plenty of privacy and space from her neighbors, all while offering up fantastic Pacific Ocean views.


Jack Johnson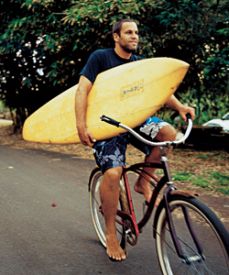 This surfer-boy crooner was born in Hawaii, and while Jack Johnson has enjoyed a successful music career with a string of popular albums, he still likes to come home to the islands. A born and bred Hawaiian, Johnson is not only a talented surfer, which is probably what motivated his purchase of his home in his native North Shore Oahu near the infamous Pipeline surfing spot.


Drew Barrymore

This reformed wild child chose a quieter spot for her vacation home in Hawaii, opting for a house on the Garden Isle of Kauai—a cozy beachside bungalow. While Kauai's dramatic landscape has often been the backdrop and filming location for many movies (like Jurassic Park, Raiders of the Lost Arc, Tropic Thunder and more), Kauai tends to be slightly off most people's radars when traveling to Hawaii. However, with recent sightings of Barrymore and Diaz frolicking on some of Kauai's beaches in bikinis making headlines, and plenty of things to do in Kauai, the island seems to be making it back into the headlines of celebrity gossip mags.


Lance Armstrong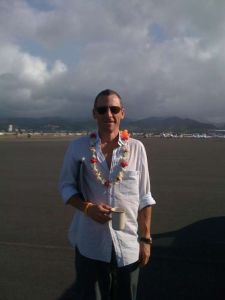 Cycling enthusiasts know that this famous biker usually makes his home in Austin, Texas, but Lance Armstrong was recently training on the Big Island of Hawaii in preparation for his big comeback this year. Enjoying the warm temperatures and mountainous island terrain on the Big Island near Kona, Armstrong kept fans posted on his training around the island via twitter. While many celebrities come to Hawaii for its serene beaches, Armstrong came for its grueling switchbacks. At night he rested his head at the luxurious Kukio residences, which offers "offers a variety exceptional residential options designed to satisfy the most discerning family in their search for their idyllic Big Island retreat," and when he wasn't riding, he was visiting the Kona Brewing Company, golfing or hanging out with his kids.


Josh Holloway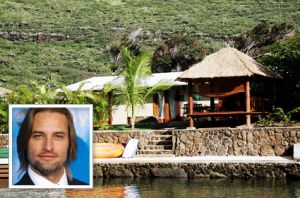 I have to admit I have not caught on to the Lost craze like so many of my friends, but that doesn't mean I don't think one of the show's stars Josh Holloway isn't smoking hot. The actor, who films Lost on location in Hawaii, stays in a airy waterfront home in Oahu when he's hanging out in the islands.