The Dunes at Maui Lani Golf Course
TIME : 2016/2/25 15:11:28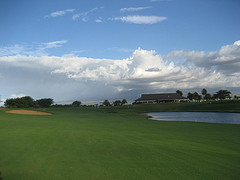 The Dunes at Maui Lani Golf Course in Hawaii is a premier resort site for the golf enthusiast. Situated between South and West Maui, The Dunes golf course is easily accessible from any of Maui's hotels and vacation resorts.

With eighteen holes of pure golfing pleasure, the course offers varying degrees of difficulty dependent on how a golfer wishes to play each hole. A professional teaching staff is on hand for golfers who wish to purchase golfing lessons. A pro shop is open twenty-four hours to take tee time reservations. The shop also has equipment to rent or buy, featuring some of the finest names in golf equipment. A friendly staff is always waiting to help you with your golf questions.
The clubhouse at The Dunes features a talented staff selected and run by the Café O'lei. Fully capable of hosting large parties, banquet reservations, and catering needs, The Dunes restaurant is available for just a quick lunch or dinner on the course or a business meeting. The restaurant also stocks a cart for on course snacks and beverages for the convenience of the golfers.
What to Expect
Maui is often subjected to high winds so golfers should chose to bring a light jacket. However the dunes that give the golf course their name often protect the players from the worst of the winds. The course has certain rules regarding clothing. A collared shirt and soft spiked golf shoes are mandatory.
What it Costs
Winter rates:
First tee time: $99.00
Second play: $65.00
Non-player rider: $25.00
Twilight (after 2p.m): $75.00
Spring through Fall rates are the same except:
Second play: $50.00 (May 1st thru Dec 15th)
Golf Lessons available for guests at approximately $80.00 per hour or a package rate for an hour lesson and then play is approximately $150.00.
Hours of Operation
The Dunes are open all year round. 24-hour service is available for setting up tee times by calling (808) 873-0422
How to Get There
The Dunes at Maui Lani Golf Course is situated between South and West Maui and easily accessible by car.