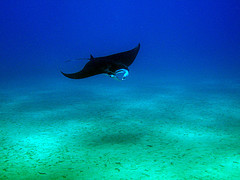 Aqua Adventures in Hawaii offers two main activities including Turtle Aches Tour and Snorkel Molokini. Each tour provides snorkeling and scuba diving activities during each trip on the boat. Before taking part in these activities, Aqua Adventure offers a continental breakfast including famous food from Hawaii.

Afterwards, professional divers offer tips, show customers how to use equipment safely and efficiently, and also how to be safe while enjoying this activity. Each trip offers water time of 3 hours, a Deli lunch, a bar, Snuba and Snorkel gear, and personalized service.
The boat itself offers a luxurious ride, having a shaded deck, an upper sun deck, and plenty of seating for more than 40 passengers. It also offers ladders for access to and from the water.
What To Expect
The weather in Hawaii is typically warm and sunny. Protective eyewear, such as sunglasses, and sunscreen is highly recommended. Cool clothing is also suggested. The boat ride will be windy, and light objects such as hats will need to be secured. Sudden rainstorms are also common in this particular area of the island.
Hours of Operation
Aqua Adventure hours of operation are usually 7:30am to 12:00pm, seven days a week, in the months of December through April. Check-in time is at 7:00am.
Admission Cost
Admission varies for different ages. Adults, 13+, will pay $147. This is for a Snuba and Snorkel package which includes snorkeling and scuba diving. For Snorkeling only, a there is a fee of $98. Children ages three to twelve will cost a fee of $122 for Scuba diving and Snorkeling, and $73 for Snorkeling only.
The package for scuba diving and snorkeling include a 30 minute dive at one location. Younger children, ages two and below are free. Wetsuits, trip videos, t-shirts, underwater cameras, and other extra equipment are not included in the initial admission cost. There is no refund for cancellation of the trip.
How To Get There
Aqua Adventure is located in Maui, Hawaii, in Maalaea Harbor, slip 51. It is located below Blue Marlin Grill, near the Maui Ocean Center.