Sheraton Maui Resort & Spa – Pure luxury in Maui.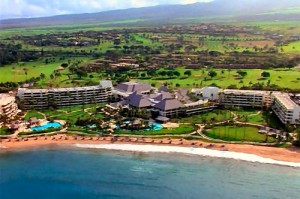 Many people have preconceived notions of what a vacation to Hawaii should be like. They envision elaborate resorts situated on postcard beaches. The want a spectacular hotel staff and a location that is close to it all, but lets them feel a million miles from it. The Sheraton Maui Resort & Spa is one such hotel that meets and exceeds all of those expectations.

About the Hotel
The Sheraton Maui Resort & Spa is located on Kaanapali Beach next to the famous Black Rock. The resort sits on an impressive amount of beach front land. Many of the rooms in the resort offer beach views. Aside from all the beach view rooms, the Sheraton Maui Resort & Spa offers a variety of rooms, suites, and villas. The variety of rooms and rates means there is something for everyone.
Th resort in modern and stylish on the outside. However, once you make your way into the resort or your room, you will be surrounded by old world Hawaii. The decor of the resort is mixed with modern amenities, bamboo lamps, patterns recalling block prints on kapa, and rattan chairs drawing
The Rooms
The rooms in the Sheraton Maui Resort & Spa are what all hotel rooms should be like. Even the most basic room is above par. The rooms are setup much like other hotels with a normal sized bathroom in the front, a double bed, sitting area, and a large balcony with a beach view.
Rooms come with the following amenities:
High Speed Internet Access
Private Lanai
Yukata robes
Dataports
Daily room attendant service
Remote controlled color television with cable, Lodgenet movies, express check-out
Refrigerator
Coffee maker, coffee and tea
Bathroom essentials
100% cotton bath towels
Height adjustable shower head
In-room safe
Iron and ironing board
Make-up mirror
Hair dryer
Air conditioning
Voice mail
Aside from the basic rooms, the Sheraton Maui Resort & Spa also has many suites. The suites are setup up from the rooms and offer a lot more simple luxuries. the rooms are larger and all provide a spectacular view of the ocean.
Some of the added features of the suites include:
Spacious bathroom with separate shower, double vanity and additional telephone
Specialty bathroom essentials
Microwave oven
Yukata robes
Bose Stereo System
Rates and Reservation
Rates will start at around $500 in the low season. For this price you won't get a view of the ocean, but instead a nice tropical garden view. For a view of the ocean you will have to fork over about $640 to $670 a night. Be sure to call a head to find out the rates for when you will be visiting.
The resort also has a number of packaged deals that are worth looking into. These packages change regularly so visit their website to see what they have going on.
For More Information
For more information about the Sheraton Maui Resort & Spa, visit their website here.